It's no secret the Hotel Kaktus Albir in Alfas del Pi, Spain is one of my favorite hotels of all time. So, I was deliriously happy on my return trip this month when the hotel receptionist told me the owner had just had free high speed Wi-Fi internet installed.
A writer by trade, I have to have access to internet several hours every day, no matter where I am, and it's expensive in Spain. So that the Hotel Kaktus Albir suddenly has free internet really is wonderful.
The Hotel Kaktus Albir is a wonderful hotel, the best in Albir, and one of the best and most friendly hotels I have ever stayed in — anywhere. The hotel is stunningly located right on the beach, the rooms are very comfortable, the buffet meals are incredible and the owner and the staff are lovely.
Now, with free Wi-Fi internet at the hotel, I have absolutely no complaints about anything they offer. It is all absolutely superb.
If you will be staying at the hotel, or even just in the bar for a quick drink or a snack, you can access the Kaktus' free Wi-Fi internet by simply asking the receptionist or a bartender for the access code. It's available in all the public areas — reception area, bar, lounge, TV room and restaurant.
If you want it in your room you will still have to pay the 8 euros a day charge but, as you can just wander downstairs and sit in the lobby or bar and get free access, if you prefer to do that you can.
To find out more information about the Hotel Kaktus Albir in Alfas del Pi, check out their website or read my glowing review.  Or you can book a room to stay with them here. You certainly won't regret staying there either, as it really is a fabulous hotel with a stunning location.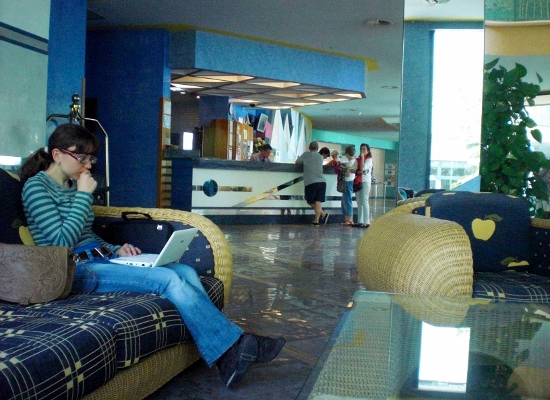 Did You Miss These?