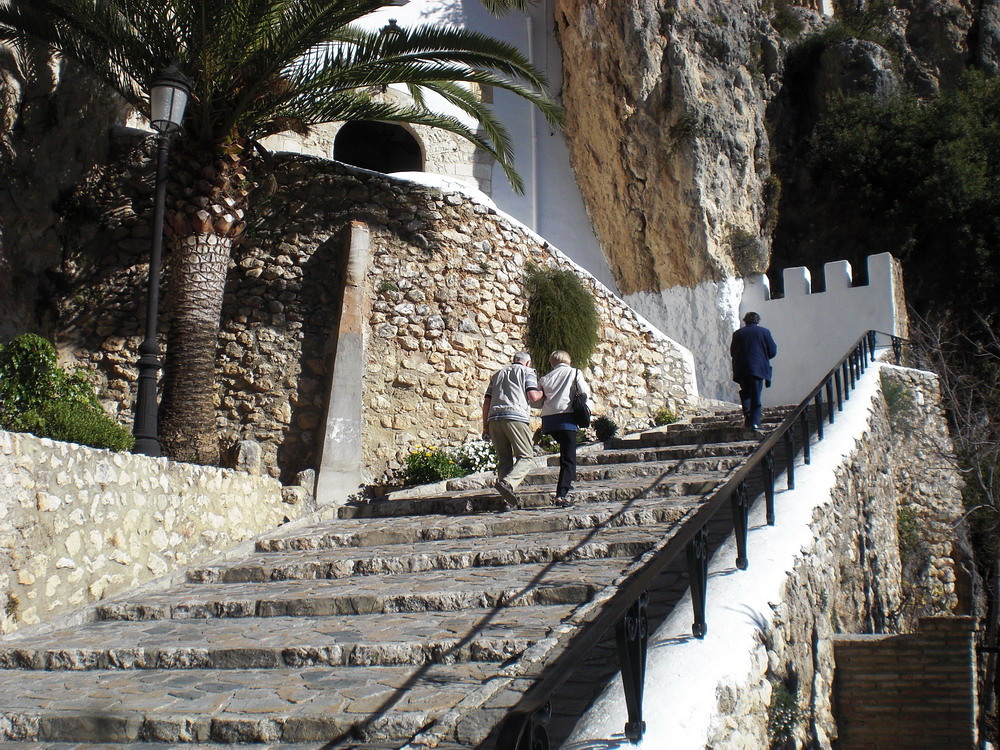 Guadalest, Spain's most visited village is up in the mountains, 25 kilometers outside Benidorm. Any visitor to the Benidorm area mustn't miss a visit to Guadalest. It's a stunning drive up the mountains and, once there, you find yourself in one of the most beautiful villages you've ever seen. Founded around 750AD as a fortification against invading armies, nowadays the village has only 200 inhabitants and survives mainly on tourism. If you're planning a trip to Guadalest, make sure you see or do these best five fun things.
Visit the Ethnological Museum – The first of the five best things to see in Guadalest is the Ethnological Museum. The only small museum in Guadalest, the Ethnological Museum is set up as a typical 18th century Guadalest house, to show how people used to live. Upon arrival, you're asked what language you speak and for Germans, French, British, Dutch, Spanish or Norwegians (the main visitors to Guadalest), you're given a laminated fact sheet to read as you walk around the museum.
In the downstairs area is a small stable, complete with model animals, a pantry and a small sitting area. Upstairs, there are two other floors. The first larger floor is where the bedroom is, and a second and third area, accessible up a flight of narrow stairs, is where you can see an oil mill grinding olives into olive oil and a cereal mill. The museum also has an interesting collection of old tools and weapons.
The Ethnological Museum is the only free museum in town, so if you don't like to spend 3 euros per person for a small exhibit, it's your best bet. If you do like to donate, there's a small donation plate at the bottom of the stairs on your way out.
Visit the Gaol – The Gaol of Guadalest is nothing more than a hole carved into the rock in the middle of the town square and right next to the village school. It was hollowed out of the rock in the 12th century and was built above a rain water tank, used to collect water for the village.
The tiny gaol was used as a court and a prison and today, particularly in the summer, is a wonderful place to get a little respite from the hot Spanish sun, as it's extremely cool inside. The present day Guadalest town hall is the tiny building that's up the steps above the gaol.
Miniatures Museum – One of the most unusual museums in Spain, in the Guadalest Miniature Museum you can see teeny tiny miniatures all with the aid of magnifying glasses. A camel walking through the eye of a needle is wonderful, as is one of Goya's entire paintings painted on a grain of rice (don't ask how they do this!).
Admission fee is 4 euros for adults and 3 euros for children, but well worth the price as you'll rarely see something this unusual.
Shop at the Gift Shops – Another of the best things to do in Guadalest is to shop at the village's gift shops. For a small place, they have many and some that sell extremely unusual items for reasonable prices.
The best gift shop in Guadalest, is the one next to the church. It has an enormous selection of pottery, glass, gift items and jewelry. Just be careful with your bags. It's so packed full of beautiful things, it would be easy to knock something over.
Coffee and Cakes at a Village Cafe – In Guadalest, you must have cafe con leche (coffee with milk) and cakes at a village cafe. The cafes are absolutely stunning. All set in gorgeous stone squares with stunning views over the valley below and with some cafes offering coffee and apple pie for only 3 euros ($4.25), it would be a pity to miss it.
Photo copyright of Guadalest Town Hall – Spotter2/Wikimedia Commons
Did You Miss These?