The Almuñécar Friday market has the best bargains in town, and it's huge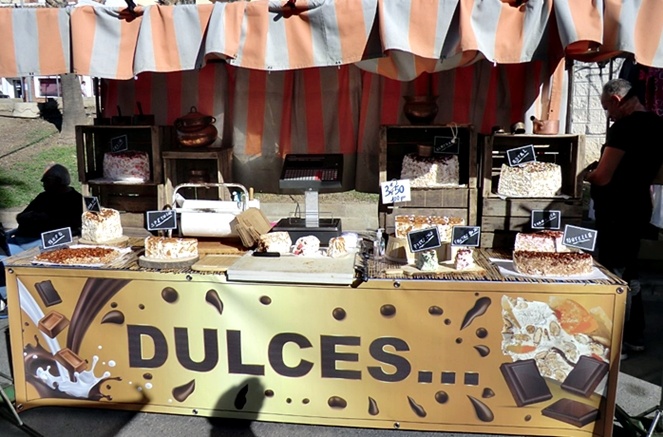 If you happen to be in Almuñécar, Spain on a Friday, the first place you should head is the Friday Market. Also known as Mercadillo Los Viernes by the locals, the Almuñécar Friday market has the best bargains in town.
So what does Almuñécar's Friday Market sell? It would be easier to ask what doesn't it sell.
I was there several times last month while on an extended family holiday in Almuñécar and, as my mother and I are huge market fans, we managed to get to the Friday market several times before we left town.
During our visits, we bought clothes, CDs and DVDs, books, and fresh spices. The vendors also sell kitchen equipment, hats, scarves, gloves, shoes, leather belts, coats, sweaters and jackets, pottery and glass ware, flowers, organic honey, blankets and towels. A couple of stalls even have local handicrafts.
You will also find several stalls selling huge varieties of loose candy, licorice, nuts and dried fruits if you have a bit of a sweet tooth.
Prices too are low, with dresses, blouses, shirts and skirts being sold for as little as three euros, baseball caps for four euros and books, CDs and DVDs for as low as a euro.
Interestingly, I bought two long-sleeved dresses for only four euros each and the quality was lovely. After we left the market, we went into the Chinese bazaar across the street from the market where we saw the exact same dresses, except there they were selling for 12 euros. Yes, I got an exceptional bargain!
Remember too, you can bargain before you agree to buy anything. That means the price you initially see is not usually the price you will pay. For instance, the baseball cap I bought was initially five euros, which is higher than I had seen them at other markets, so I bargained the stall owner down to four euros. A price he still seemed quite happy with. Especially as I then bought two.
Tips for the Almuñécar Friday market
Although the Almuñécar Friday market supposedly opens at 9am, we found most sellers are not up and completely ready until 10am, so any time after that is the best time to arrive. Just be aware, by 12pm it does get very crowded as it closes at 2pm.
Also be sure to hold onto your bag and wallet while you are shopping.
We honestly didn't find it particularly worrisome when it came to potential pickpockets at the Almuñécar Friday market, nor did we ever once feel like someone in the crowd was paying far more attention to us than they should be or getting too close. But, just like anywhere in the world, markets are a prime place to have your money stolen. So better to be safe than sorry.
In other words, make sure you know what is going on around you as you shop, and you shouldn't have any problems.
The Almuñécar Friday market  is located on the Paseo Blas Infante, a large parking lot just opposite the Lidl supermarket. It starts at 9am and runs until 2pm. The best time to go is between 10am and 12pm.