Best Food Markets in Madrid, Spain – Fresh Fish, Meat, Veggies and Cafes (Video)
Although Madrid, Spain has excellent supermarkets, most residents of the city still buy a large part of their food every month at one of Madrid's wonderful food markets.
Food markets in Madrid are like in no other city outside Spain. Packed with stalls selling the freshest fish and meat, colorful fruit and vegetables, gorgeous cheeses, legs of jamon (cured ham) as far as the eye can see, they also have tapas bars or cafes, where you can enjoy a quick pick-me-up after a morning shopping.
If you're in Madrid and looking for the best food markets, start off with these three. They're spectacular.
The Mercado de San Miguel (see fabulous video below) – Located close to the famous Plaza Mayor, the Mercado de San Miguel is the oldest covered market in Madrid (it was founded in 1916) and the place to shop if you're looking for top-of-the-line, fresh food but don't want to pay an arm and a leg for it. It's also one of the best and most fascinating markets in Madrid.
While not the largest food market in Madrid (there are only around 35 stalls), the Mercado de San Miguel does have a huge number of choices – fresh fish, meat, chicken, cheeses, nuts, coffee, wine, fruits and vegetables and all in the most delightfully-designed environment.
The best thing about the Mercado de San Miguel though, above and beyond its excellent food, are the numerous cafes and tapas bars dotted around the place. You'll see locals and tourists alike grabbing a cafe con leche or a glass of wine, settling at a small table to chat, or wandering around the market, glass in hand.
You'll find the market at Plaza de San Miguel, close to the Sol subway station.
Mercado de Chamartin – One of the largest food markets in Madrid, Mercado de Chamartin is a two-floor affair, offering a huge selection of Spanish food products. Of course, you'll see the odd tourist wandering around but, overall, the market is more of a local Spanish spot — lovely if you're looking for the authentic.
Look for fresh fish and seafood, cheeses, jamon, and some of the freshest fruit and vegetables in town. The beauty of the displays on the stalls though, catches your eye even more. At some stalls it's hard to fathom these perfect looking apples and massive tomatoes are real.
Don't miss the two large cafes either. They're a nice place for a glass of wine or a coffee, and great to do a spot of people watching from.

The Mercado de Chamartin is at calle de Bolivia, 9, Madrid.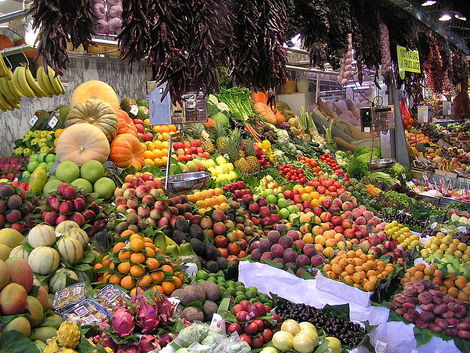 Mercado de Maravillas – One of the busiest markets in Madrid, the Mercado de Maravillas isn't always the easiest place to find but, once you do, you'll be happy you did, as there's nothing you won't find for sale here — it's massive.
The market is known for its many fish stalls selling hundreds of types of fish, crabs, shrimp, oysters, mussels, squid and every other type of seafood imaginable. Fruit and vegetable stalls are packed with produce, and all of it looks perfect. There are also stalls and little shops selling fresh bread, Indian spices, Thai herbs, specialty teas and coffees, nuts, rice – you name it, it's here.
After you've picked up everything you need to cook dinner tonight, check out the tapas bars and cafes at Mercado de Maravillas. They're not trendy, like at some other Madrid food markets, but they're a wonderfully authentic way to experience a real Madrid market scene, and prices are lower than at the fancier Mercado de San Miguel. The coffee is superb too.
The Mercado de Maravillas is at Calle Bravio Murillo, 122, in Madrid.
For more on Madrid's markets, don't miss visiting the famous El Rastro flea market. It's a wonderful place to shop for the unusual and unique.
And, of course, if you are going to be visiting Madrid, remember to book your hotel room well in advance if you want the best deals.