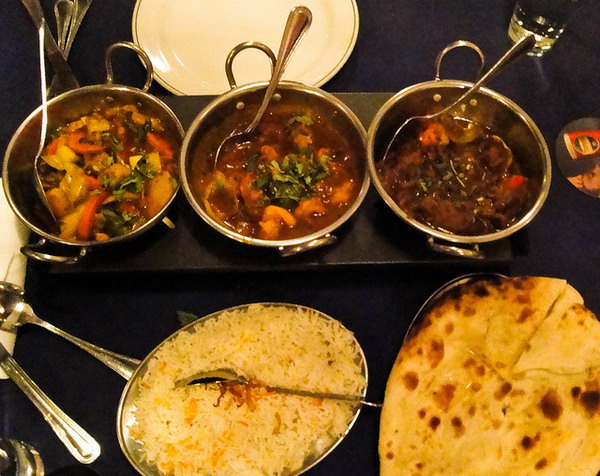 Madrid has incredible Indian restaurants that serve some of the best Indian food in Europe and at prices that won't break the bank. These are three of the best.
Annapurna – You'll find Annapurna on most Best Madrid Indian Restaurants lists, and with good reason. Not your typical Indian hole-in-the-wall (and there's nothing wrong with them either, as they usually serve the best food), Annapurna is upscale, elegant and serves the most incredibly authentic Indian food.
One of the best things about eating Indian food at Annapurna is they've gone the typical Spanish route and offer a 'Menu del Dia', a set menu of Indian dishes with various choices, all served for one specific price. In Annapurna's case, they offer three 'Menu del Dias' with three price ranges – 33 euros, 37 euros and 43 euros, but all include so much food, you'll practically roll your way home.
The set menus include dishes like samosas, paneers, kebas, tikkas, kormas, and many other Indian favorites. Try their chicken tandoori, rogan josht (flame roasted lamb), and Kashmiri palao (fragrant spiced rice). Menus include wine, dessert and coffee.
You'll find Annapurna at Calle Zurbano Nº 5, 28010 Madrid.
Indian Aroma – One of the lower-priced Madrid Indian restaurants, Indian Aroma is still one of the best ethnic restaurants in the city. Not only is their food tasty and portions large, but they even manage to serve a 'Menu del Dia' for only 12 euros — an excellent deal, particularly for the high quality of the food.
Try their vegetable samosas, chicken tikka masala, lentil curry, butter chicken and, of course, their superb hot nan. You may find the dishes are slightly less spicy than what you're used to, as they seem to cater to a more western palate, but they're still delicious, and their rice is fluffy, soft and perfect.
The staff at Indian Aroma speaks excellent English and the service is impeccable. Be aware though, it's only a small restaurant so, if you plan on getting their at the height of lunch or dinner time, you may have a wait.
Indian Aroma is at Calle Ventura de la Vega 6 , 280014 Madrid.
Taj Mahal – Another of the best low-priced Indian restaurant in Madrid, Taj Mahal is known for its large variety of dishes, supremely fresh ingredients, and lovely atmosphere. They also play funky and mellow music, which is great to relax to.
Try the Lamb Bhuna, vegetable samosas, Chicken Biryani, curried prawns, and butter chicken. Their rice dishes too are excellent, particularly the rice with vegetables. Leave room for dessert too, as you won't want to miss the Indian ice cream — it's creamy and spicy. Yum.
The staff at Taj Mahal are lovely, and most speak excellent English,so you'll have no problems ordering here. It is a small restaurant, so arrive early if you don't want a wait. Price-wise, food per person shouldn't cost more than 20 euros and that's for a number of dishes and a lot of food.
Taj Mahal is located at Calle Lavapies 46 , 28012 in Madrid.