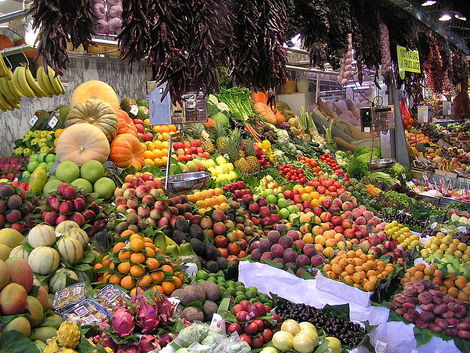 One of the best things about a holiday in Barcelona, Spain is the city's many markets. Traditional fish markets, food markets, flea markets and flower markets, Barcelona's markets are legendary. For a first-time visitor to Barcelona and its markets, if you don't have time to visit them all, these three are the best places to start.
La Boqueria Market – One of the largest markets in Barcelona, and one of the most-visited too, La Boqueria Market has been open in its present form for just over 100 years.
Known for its enormous selection of fresh fish and seafood, vegetables, fruit, cheeses, ham, chocolate, nuts and just about any other food Spain is famous for, La Boqueria Market is wonderful place to visit.
For vacationers, buying food at a market in Spain isn't usually top of their list of things to do in Barcelona. But, for a photography buff, or just someone who enjoys to take photos of unusual places, you'll get some great shots here. Don't miss sampling a few tapas at one of the market's many excellent tapas bars too. It will be the highlight of your trip.
La Boqueria Market is open Monday through Saturday from 8am to 8:30pm. They're closed on Sundays.
Mercant Del Encants – Barcelona's biggest flea market, Mercant Del Encants is a crazy affair. Packed full of stalls selling everything from good bargain antiques to the oddest things you've ever seen, if you're looking for an unusual memento of your trip to Barcelona, here's where you'll find it.
The market isn't just typical stalls though, there's also a couple of antiques auctions that run throughout the day. Just make sure, if you're going to bid, you're absolutely sure what you're bidding on before you buy.
The Mercant Del Encants is held on Monday, Wednesday, Friday and Saturday mornings. Most stall owners are packing up and leaving by 1pm, just in time for siesta, so if you're planning on buying something, watch the time.
Mercant Del Encants is located at Calle Dos de Maig, 186, in the Gracia district of Barcelona.
Mercat Del Ninot – If you prefer shopping at a Barcelona market that's for the locals and away from the tourist traps, then Mercat Del Ninot should please you. A definitively local market, it's another place where you'll find the freshest food — fish stalls, butchers, cheese shop, vegetables and fruit and, of course, the famous Spanish jamon (ham).
Like most Spanish markets, Mercat Del Ninot is a feast for the eyes. Stacks of gorgeous fruit and vegetables, the most beautiful legs of jamon hanging from stalls, round ripe cheeses and fish that, by rights, should still have their gills moving. Prices are inexpensive and the quality and variety is amazing.
Make sure you also hit the outside section as, here, you'll find clothing stalls with lots of bargains to be had.
Again, don't miss the market's tapas bars too. Grab a cafe con leche or a beer and a couple of tapas and simply watch the crowds walk by. it's fascinating.
Mercat Del Ninot is at Mallorca, 135 0803, Barcelona.