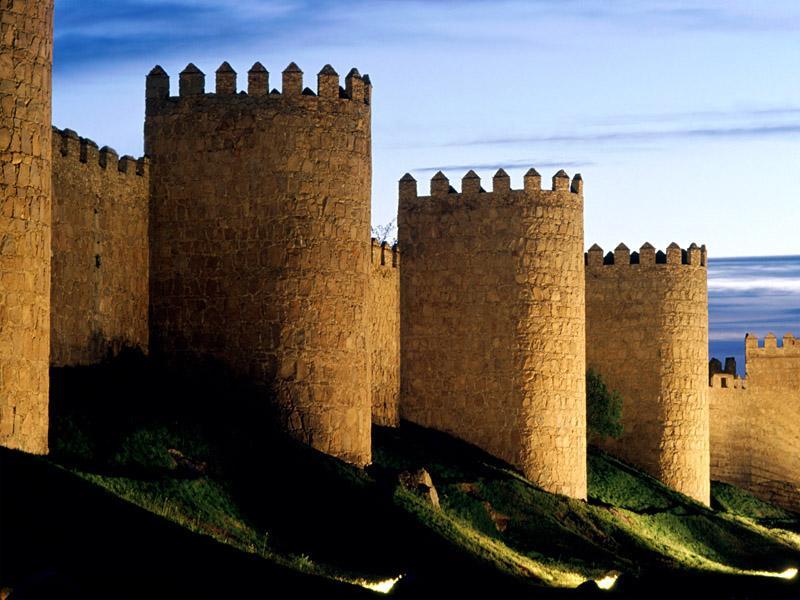 For one of the most beautiful places in Spain, look no further than the ancient town of Avila. Located close to the mountain range of Gredos Sierra, Avila is built on the banks of the River Adaja and is the highest city in Spain. Not a place the typical tourist to Spain visits, Avila is more about traditional Spanish culture than a holiday mecca. That's why it's so wonderful, and why tens of thousands of tourists still visit it each year. With so many things to see and do in Avila, make sure you see these top five. They're the best the city has to offer and, believe me, it has a lot.
The Old City Walls – One of the few cities in the world to still have a complete medieval wall, if you've seen any European historical films, you've probably seen Avila in a movie. The old city walls, which were built beginning in 1090, completely surround the old city and have nine enormous gates and 100 towers. Head into the old city of Avila, and walk the circumference of the walls. It will give you an idea of how successful the people of Avila were when it came to defending themselves for almost 1,000 years.
Do the City Walls tour too. It's only 4 euros and free for kids under 8 years old. You'll even get to see some dramatized performances showing certain historical battles.
Cathedral of Avila – One of Avila's oldest religious buildings, the Cathedral of Avila was built between the 12th and 14th centuries. Known as one of the most beautiful buildings in Avila, the Cathedral is also heralded as representative of some of the finest Gothic, Romanesque and Renaissance architecture in Europe, as it was built in a mixture of all three styles. It's also surrounded by a number of royal houses and palaces.
Don't miss the Cathedral Museum too. It houses a large art and artifact collection dating from the 12th to the 18th century, with several tapestries and embroidered pieces that are not only beautiful but extremely valuable.
The Museum of Oriental Art – A small but fascinating museum, the Museum of Oriental Art is a showcase for Asian art from countries such as Japan, China, the Phillippines, and Vietnam. Most of the collection is of items collected by Dominican missionaries while they were in Asia spreading the teachings of Christianity.
The collections include some stunning ivory carvings and metalwork, as well as a room devoted to exotic animals.
Entrance fee is nominal at only 3 euros, and 2 euros several days a month when the museum offers discounted admission. The Museum of Oriental Art is open every day except Mondays. Address : Plaza de Granada, Avila – Phone : +34 920220400
Visit Avila's Tapas Bars – Of course, Spain is world-famous for its tapas bars – tapas being those tiny plates of delicious bar snacks served in restaurants and bars all over the country. Avila is known throughout the region for its tapas bars, serving an enormous selection of traditional Spanish tapas, superb wines and cognacs or, if you prefer, some darned good cafe con leches.
Walk around the El Sol, El Tablon, and La Oca areas of Avila, as these are the places where many of the city's tapas bars are located. Choose one that looks interesting and walk on in. In some of them, you get a free plate of tapas with each drink or, even if you have to pay, they're still only around 1.50 euros so you can sample a good number.
Eat Avila Veal – Avila has been famous for centuries as one of the finest veal producers in the world and you'll find this succulent meat in many of Avila's restaurants — from the high-end exclusive variety to more family-oriented, less expensive eateries. Many of the veal dishes are served with Avila's other specialty – beans or Barco de Avila.
Spain, of course, is world-famous for its incredible cuisine, one that is now thought to aid the Spaniards in their long lives, as they're now the world's second longest-living peoples. Avila's veal however is a cut above even that and a must eat while you're in town.