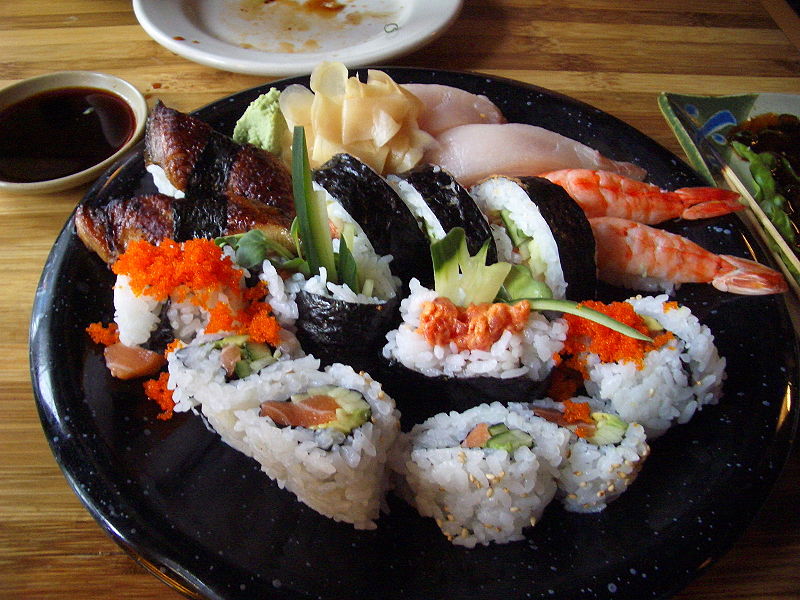 While visiting Madrid, Spain, with all the amazing Spanish food to eat, you may not think about eating at a Japanese restaurant. But, just like most of the world's top cities, Madrid has incredible Japanese restaurants serving some of the best Japanese cuisine on the planet.
If you would like a change from paella and jamon, why not, just one night, try Japanese? You may be amazed at how wonderful these Madrid Japanese restaurants are.
Ayala Japon – One of the most popular Japanese restaurants in Madrid, Ayala Japon is located in the Salamanca area of Madrid, and has been open since 2003. It's a beautifully styled neighborhood restaurant, all hardwood floors and dark wood with colorful accents, so when you arrive, it's so pretty, you're already expecting something fantastic. Luckily, Ayala Japon doesn't disappoint.
The restaurant's menu is extensive, with choices ranging from miso soups to bento boxes, tempura to sushi, and dim sum to sashimi. The wonderful thing about eating in such a Japanese restaurant in Spain though is, Ayala Japon follows similar rules to Spanish restaurants, which offer a 'menu del dia' (menu of the day) for a set price.
In this case, Ayala Japon has four set menus, ranging from a dirt cheap 7.95 euros to its high-end 32 euros per person sets. Each set includes several dishes and a drink. Be forewarned, the sushi is delicious and should be a must-order at every table.
You'll find Ayala Japon at Ayala 67 , 28001 Madrid.
Naomi Japonés – A smaller, but still well-known Japanese restaurant in Madrid, Naomi Japonés is popping up on more and more critics lists as even more people begin to discover it — odd really, as it's been open for more than 30 years. Its family-owned, low-key and very small so, before you even start, either go early or give them a call and try to reserve a table (Tel: 91 572 2304).
Naomi is known for its superbly-fresh sushi, which is made by hand at the sushi bar by one of the family while you wait. Also, don't miss the beef teriyaki, an order of sea urchin and a bowl of Japanese udon noodles — they are truly superb.
Naomi is small, crowded and service is relaxed. Prices are moderate and portions are large but, most importantly, Naomi serves just about the freshest sushi in Madrid.
They're located at C/de Avila,14 , 28020 Madrid.
Janatomo – Billed as Madrid's oldest Japanese restaurant, Janatomo has been around for more than 50 years. It was recently renovated, however, so is more modern than you'd expect given the age of the restaurant. Janatomo has also added some Korean and Chinese dishes to its menu, so there really is something for everyone.
As for food, Janatomo, of course, shines. The scallops are one of their specialty dishes, their ramen noodles are unparalleled anywhere in Madrid, and don't miss the fried eggplant and the gyoza dumplings. The sushi, although not the best in Madrid, is still delicious and well worth ordering.
Janatomo is at Calle de la Reina, 27 , 28004 Madrid.