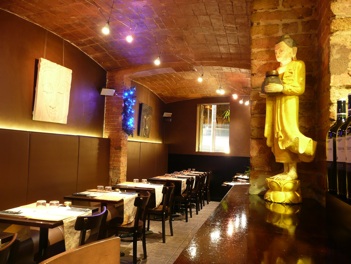 Thai food has been one of the world's most popular cuisines for decades. That's why it's not surprising Barcelona, Spain has so many Thai restaurants and, some are as good as any restaurant you'll find in Thailand. If you'd like a change from Mediterranean food and fancy a bit of Thai, check out these authentic Thai restaurants in Barcelona. You'll love them.
Thai Thai – One of the most widely known and most popular smaller Thai restaurants in Barcelona is Thai Thai. Thai Thai serves authentic Thai food (although less spicey than in Thailand, but you'll rarely get that kind of spice outside Thailand, so that's not too surprising), and has a pretty extensive menu too.
Try their chicken satay (the peanut sauce is excellent), the pad thai is wonderful, the som tam tastes just like in Bangkok and, if you like coconut milk, the tom kha gai (chicken in a coconut soup with mushrooms) is superb.
Prices are not cheap (particularly for anyone who's used to eating Thai food in Thailand), so expect to pay at least 30 euros each for a three-course meal. But, the food is made with very fresh ingredients, lots of spices and the service is marvellous.
You'll find Thai Thai at 91 Calle Diputacio in Barcelona . Take the metro to Rocafort station. It's just a five minute walk from there.
Bangkok Cafe – Another small Thai restaurant in Barcelona, Bangkok Cafe serves incredibly authentic Thai food and, for Spain, cheap prices. Here, the Menu del Dia is less than 10 euros and, for a la carte, you'll get away with a superb meal for around 20 euros, and leave feeling very full and very happy.
Dishes that are must tries are the tom kha gai (chicken in coconut soup), cashew chicken, larb (spicy ground chicken) with sticky rice, and they make the best pad Thai I've ever tasted outside Bangkok. Bangkok Cafe is also so authentic in its use of Thai spices, make sure you ask for "less spicey" if you're not a fan of spicy food, as a couple of their dishes are not only as hot as in Thailand but, if you're not used to that, they'll blow your mind.
Bangkok Cafe is located at Calle Evarist Arnus 65 in Barcelona.
El Thailandes – Close to Las Ramblas, El Thailandes is a cozy restaurant that's beautifully designed and that serves authentic Thai food for an inexpensive price. While their menu is not as large as some of Barcelona's other Thai restaurants, they do have a Menu del Dia/Sampler that's tasty (and inexpensive) and everything is made with the freshest ingredients you'll ever find. They also have a takeaway service, if you'd rather eat in your hotel room or at home.
Dishes to try include tom yam geung (spicy shrimp soup) with rice, vegetarian curry, chicken or beef yellow curry, and khao pad geung (shrimp fried rice) or khao pad gai (chicken fried rice). Dishes average between 7.95 euros and 10 euros and portions are large.
Be aware, oddly, El Thailandes is not open for dinner on Monday, Tuesday or Wednesday evenings and is also closed all day Sunday.
El Thailandes is at Avenida Diagonal, 379 08008 Barcelona.