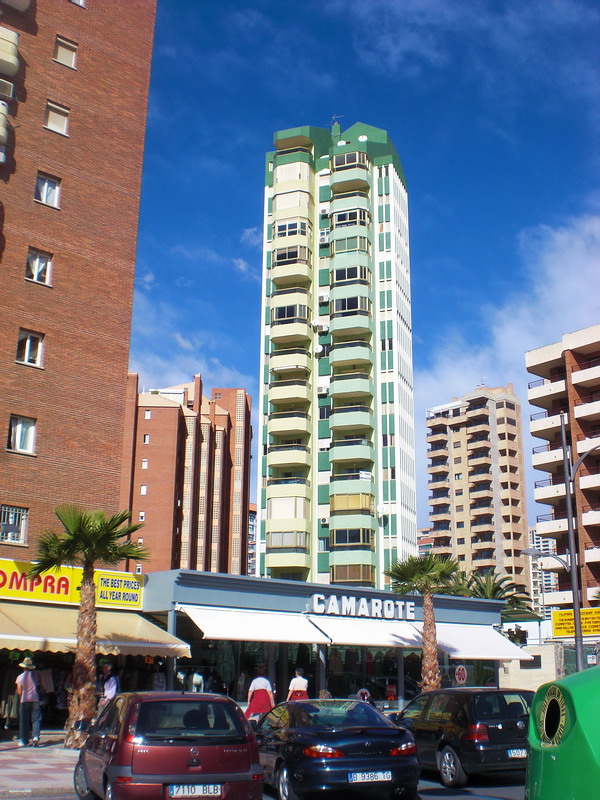 On a recent family trip to Benidorm in off-season January, I was amazed to see a town stuffed to the gills with Spaniards, Germans, Dutch, French, and British with more arriving daily. Why? Not only is Benidorm great all year round for sun and sand, it's also packed with so many fun things to see and do, you never get bored.
If you are planning a trip to Benidorm and don't have time to do everything, make sure you consider these five must see and do things. You won't be disappointed.
Take Photos of Benidorm's Quirky 1960s and 1970s Architecture – I had not been to Benidorm since I was 12 years old, so when I finally went back this year, I couldn't believe how incredibly cheesy so many of the buildings were. Or so I first thought.
Built in the 1960s and 1970s, or more modern buildings built in the same style, at first glance Benidorm's hotels, apartment buildings and restaurants just look tacky.
But, on subsequent visits, as I began to look closer, I soon saw what many others see. An incredibly cool and funky town, with the most beautiful (if odd) modern architecture in that part of Spain and a photographer's dream.
On my next few visits (we stayed in the area for a month), I took my camera along and I began to photograph. Enormous high-rise apartment buildings with colorful accents standing up straight and tall against an intense blue Spanish sky.
Odd little restaurants with funky, weird signage, hotels that looked like they should be transported back in time to a world of mini skirts and burn-your-bra days, and beach huts, so colorful and cool, they hurt your eyes.
Take a day and hit Benidorm with your camera, and photograph, photograph, photograph. I took over 300 photographs one day and 90% of them are beautiful. Now, I'm not a particularly great photographer, so if I can get something special from Benidorm's amazing architecture, imagine what you can do.
Go Golfing – The Benidorm area of Spain is a golfer's paradise, with around 20 world-class golf courses within 90 minutes drive of the city. Some of them are even ranked as the world's top golf courses and often host professional tournaments.
The late Seve Ballesteros, Spain's most famous golfer, used to play at golf courses in and around Benidorm and even went so far as to design some of the golf courses in the area.
Compared to the US and much of the rest of Europe, prices too are inexpensive. Check out Alicante Golf, Alenda Golf and El Plantio Camp de Golf – some of the best golf courses in Spain.
Take a Glass-Bottomed Catamaran to Benidorm Island – Benidorm Island is a huge rock, you can see sitting out in the ocean directly off Benidorm's beaches. The most fun way of seeing it is to take a catamaran trip out to the island and back – a few hours or just there and back – it's up to you, catamaran's leave every hour. But, not just any ordinary catamaran.
This one has a glass bottom to it, so you can climb down into the depths of the boat and see all the fish and marine life swimming around. Truly spectacular.
Shop, Shop, Shop – Of course, no trip to Benidorm is complete without shopping and, believe me, I did more than my fair share. After all, when shopping is this cheap and unique, why wouldn't you?
A wonderful city for inexpensive olive oil (well Spain is the world's largest producer of the stuff), cheap wine, amazing cheese, handmade lace, gorgeous children's clothing, Spanish leather shoes – you name it, buy it in Benidorm, as prices here are often 30-50% cheaper than other tourist areas close by.
Enjoy a Night at Benidorm Palace – Known as one of the best variety shows in Spain, Benidorm Palace is the place to drink wine, dine and enjoy a truly spectacular evening show – laser lights, can-can dancers, burlesque, comedians, gymnasts. flamenco dancers, Spanish guitars and lots more.
You can pay for either a drink and the show or dinner, drinks and the show. One drink plus a ticket to the show is 28 euros, or dinner, drinks and the show starts at 45 euros, with special prices (and menus) for the kids.
While not cheap, this is one place in Benidorm you really should splurge. It's a wonderful night out for all the family. Shows are late though, starting at 10pm and going on till around 1am.
But, don't worry, when the show is over a taxi waiting right outside can whisk you back to your hotel and a good night's sleep, so you can get up in the morning and do everything in Benidorm again.