On a trip to Denia, Spain consider taking a break at Restaurante No. 11, situated on the main street in this lovely ocean side town.
We stumbled across Restaurante No. 11 last month while on a day's visit to Denia. Located on Marques de Campo, Restaurante No. 11 is a delightful restaurant and coffee shop where, if you love a trendy, cool atmosphere, that's beautiful too – you really shouldn't miss this wonderful place.
Denia and Location of Restaurante No. 11 – Denia is a lovely ocean side town about an hour and a half on the train from Benidorm.
After getting on the train at Altea, we stepped off in Denia only to find the town about 10 degrees cooler than where we had just come from.
While walking through Denia's main restaurant area, towards the top of Marques de Campo on the right hand side, we stumbled across Restaurante No. 11 and, with its pretty outdoor seating and gorgeous (and warm!) indoor restaurant, we immediately headed inside.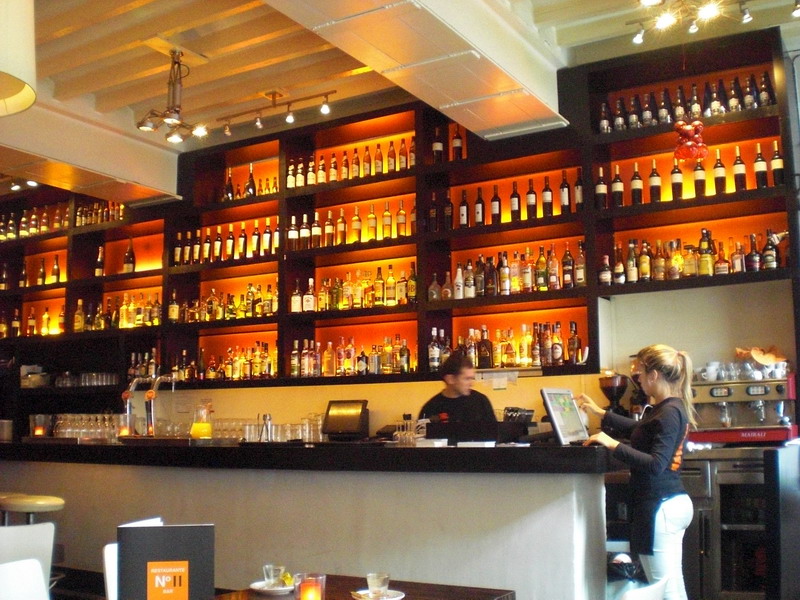 Coffee and Food at Restaurante No. 11 – As we arrived in the late morning, the first thing on our minds was a hot cafe con leche. At the door of Restaurante No. 11, there was a chalkboard with the specials for the day. A cafe con leche and a warm slice of apple strudel with cream was only 2.95 euros ($4.15). You can't pass up a deal like that.
Once inside, we grabbed a window seat and ordered. My parents had cafe con leches and a brandy. I, of course, ordered the apple strudel and coffee. It arrived within minutes and I was surprised to see the strudel was a large slice with a huge mound of whipped cream liberally sprinkled with cinnamon. Yum – it was delicious.
Restaurante No. 11 also has a superb menu. Serving breakfast, lunch and dinner, just walking into this lovely place, you can tell it's one of the most popular cafes and restaurants in Denia as it's packed, with more people arriving every minute.
They serve an excellent selection of sandwiches, salads, bocadillas (Spanish sandwiches on baguette bread filled with meats, cheeses, vegetables, fish etc), and have a good mix of smaller dishes or fully-fledged meals.
The restaurant also has a superb wine list with everything from inexpensive Spanish wines to higher priced French and German choices. Many of the wines and other drinks are beautifully displayed in orange-lit shelves behind the bar, giving the whole place a warm yet chic atmosphere.
Restaurante No. 11 in Denia even has high-speed Wi-Fi, a fact many people inside seemed to be taking advantage of.
The Staff at Restaurante No. 11 – The staff at Restaurante No. 11 is lovely. The girl who served us was friendly, smiling and spoke quite good English and, even when I paid with a large note, had no qualms changing it, which can sometimes be more difficult in some Spanish cafes.
Accommodation – Restaurante No. 11 also has two lovely suites available for short-term and long-term rent. If you're looking for a convenient place to stay in Denia, you couldn't do any better than here as not only are they gorgeous, they're so centrally located, everything you need is right outside your front door.
If you're in Denia and looking for a nice place to enjoy a coffee, breakfast, dessert, a snack or a meal, while watching some of the trendiest and most beautiful Spaniards you'll ever see come and go, then Restaurante No. 11 is the place. We'll be going back to Denia next week and Restaurante No. 11 is the first place I'll be heading. I'm already dreaming about their strudel.
More Information:
Restaurante No. 11 Website (gorgeous photos)