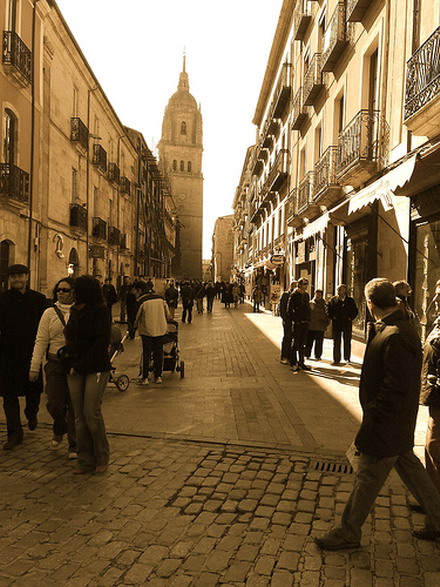 Salamanca, in western Spain, is world famous for its beautiful buildings. In fact, the city is so beautiful it was named a UNESCO World Heritage site.  It's also home to Spain's oldest university, with thousands of international students arriving each year, as well as one of the most popular tourist destinations in Spain.
Salamanca is a bustling city with many cool things to see and do — so many, in fact, it will be difficult for you to see everything on an average trip there. That's why, if your time in Salamanca is limited, you should make sure you don't miss these wonderful things. They're some of the best Salamanca has to offer.
Plaza Mayor's Tuna Groups – Most evenings at Plaza Mayor, you'll see groups of men in old minstrel costumes, seranading the public with traditional Spanish guitar and song. Called "tunas" (the groups), they come from Salamanca university, and are a mix of students and professors from various faculties there. Look for the brightly colored sash, as every group wears a different color, and that will tell you which faculty they're from.
The songs are wonderful, the entertainment fun, and the guys have such a great time when they're doing it, there's no way you won't too. So sit at a sidewalk cafe, enjoy a glass of wine and a meal, and be serenaded by some truly Spanish musicians.
(Watch the video at the bottom of the page – these are men from the faculty of Medicine in Salamanca. Truly fun).

University of Salmanca Frog – Can you find the frog at the University of Salamanca?
Tradition has it, if you are a student at the University of Salamanca and can find the frog (it's somewhere in the carved stone above the university's main entrance), you'll have no problem passing your exams. Even if you're not a student, it's still fun to check your eyesight and see if it's good enough to find Salamanca's famous frog.
Plaza Mayor – The largest and most-visited public square in Salamanca, the Plaza Mayor is a wonderful place to have lunch, enjoy a cafe con leche or a glass of wine, or just stroll around and enjoy the incredible architecture. Thought to be one of the most beautiful squares in Salamanca, it's the home of Salamanca's town hall, as well as lots of boutique shops, cafes and restaurants. Day or night, Plaza Mayor is a must visit.

Take Spanish Classes at the University of Salmanca – The most popular Spanish language classes in Spain are held at the University of Salamanca. Students come from all over the world to study for just a week, a month, a semester or longer. Prices are reasonable and the quality of education is superb. Check out their website for admission information.
Bullfight Museum (Museo Taurino) – Although bullfighting in Spain is getting a bit of a bad name in many regions, due to the perceived 'cruelty' towards the bull, bullfighting is still popular and museums on the subject have popped up all over Spain.
Salamanca's Bullfight Museum or Museo Taurino houses an excellent collection of exhibits on the subject. You'll learn about the history of bullfighting, see old posters, marvel at the costumes and be submerged in the culture of the sport.
The Bullfight Museum is close to the Plaza Mayor so easy to find – c/ Doctor Piñuela, 5-7, Salamanca
Museo Casa Lis — Once a private residency, nowadays the building houses the Museo Casa Lis and a stunning collection of Art Deco and Art Nouveau pieces, including glass, marble and bronze works. Also be sure to visit the Museo's terrace cafe where, on Saturdays in the summer, you can also find outdoor concerts and sit and watch a stunning sunset.
You'll find the museum at C/Gibraltar,14  in Salamanca.