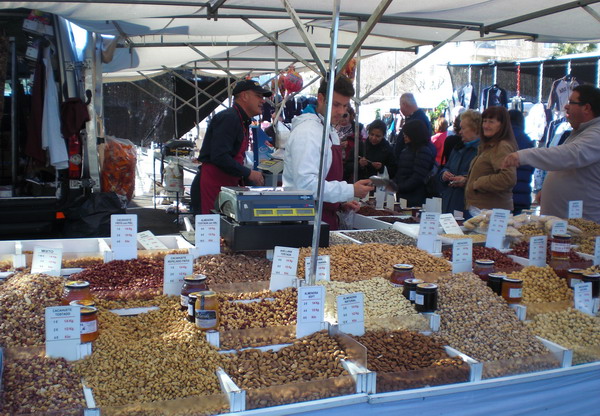 No matter where you are on holiday on the Costa Blanca, there's so much to do it's often hard to just pick one. With so many must see and do things for kids and adults, there are some you just absolutely shouldn't miss, unless a life or death situation is stopping you  – and these are just four of them.
Costa Blanca Markets – Spanish markets are one of the best things about going on holiday to Spain. Whether it's a morning market that sells the freshest vegetables and seafood you've ever seen, or one that's just for clothes, shoes, household items, books and electronics, you'll find so many things you want to buy, you must remember to bargain.
Markets normally start by 9am and close by 12-1pm, so get there early before all the crowds and before the good stuff is gone. Look for the Sunday market in Albir, it's wonderful, the Saturday market in Alicante, and the markets on Monday in Denia, Elche and La Nucia. Or check out this handy calendar with the days each market on the Costa Blanca is running.
Aqualandia – The biggest theme park not only on the Costa Blanca but also in the whole of Europe, at Aqualandia it's all about water. Located on the outskirts of Benidorm, there are water slides, shutes, rides, restaurants, cafes, stores and lots more.
Aqualandia is an all-day trip but, on the second day, come back and visit Mundomar Aquatic Animal Park, where you can swim with sea lions or just sit back and enjoy the shows. The kids, and you, will love it. http://www.aqualandia.net.
Take the Train from Alicante to Denia – Another must-do thing on the Costa Blanca is to ride the train from Alicante to Denia. It's a five-hour ride between the two towns, and goes all the way along the coast as the train travels through various villages and towns including Benidorm, Altea, Calpe and Teulada.
You can get off in Gata de Gorgos where you can visit a traditional Spanish guitar factory or buy some of the famous traditional wickerwork, disembark at Calpe to climb the Calpe Rock (Penon de Ifach), or stay on all the way to Denia —  a lovely town for a sidewalk lunch or a walk around the port.
La Bodega del Garroferal – Located in the village of Murla within the Jalon Valley i the province of Alicante), La Bodega del Garroferal is a traditional Spanish vineyard that's actually run by a South African couple. It's also one of the must-see and do things on any trip to the Costa Blanca.
La Bodega del Garroferal offers the most wonderful vineyard tours, cellar tours, wine tastings and, of course, some quite delicious tapas and, if you want to take a few bottles of first-rate Spanish wine back home with you, here is the place to buy it. http://www.peterarnoldwines.com