Villajoyosa is a pretty coastal town, just a few minutes south of Benidorm in Spain. Famous as the home of Valor chocolate, Villajoyosa is a sixth century town, and a popular tourist destination as it makes a nice change from the bustle and noise of Benidorm. Stretching for several miles along the coast, with beautiful sandy beaches and a small fishing harbor, Villajoyosa is small enough to walk around yet has lots of things to see and do, and these five are the top.
Villajoyosa Thursday Market – I'm a huge fan of Spanish markets and, if you're looking for a truly authentic Spanish market, you can't beat the one at Villajoyosa. Yesterday, I walked through the large outdoor market with my parents and realized quickly we were three of only a handful of non-Spaniards there. For tourists that means no 'tourist prices'.
The Villajoyosa market is held close to the railway station in the center of town, every Thursday. Packed full of stalls, look particularly at clothing, jewelry and leather goods as this market specializes in them. I picked up two bras for 5 euros ($7), two hand-blown glass pendants for 5 euros ($7) and even managed to find underwear for less than $1 a pair.
After browsing the market, go out of the side entrance and have a cafe con leche or a cake at one of the coffee stalls set up at the side of the market. A true Spanish experience.
Valor Chocolate Factory Tour – Of course, the top thing to do in Villajoyosa is to take the Valor chocolate factory tour. Valor is Spain's most famous chocolate. Villajoyosa is its home town. The chocolate factory tour is free and with one going almost every hour on weekdays (except during Spanish siesta betwee 2-4pm) and between 10am and 1pm on Saturdays, it's easy to hop on one.
On the tour, you'll see a film presentation about the history of Valor chocolate, tour the Valor chocolate museum, then see how the chocolate is made in the factory. Of course, you'll also get the chance to sample the delicious chocolate and buy some too.
You'll find the Valor chocolate factory at the top end of Villajoyosa. There are signs everywhere or just ask some one if you get lost. It's the pride of Villajoyosa.
Villajoyosa Fish Market/Auction – If you're looking for something traditionally Spanish, don't miss the Villajoyosa fish market. Held every afternoon, here you'll get the freshest fish you've ever had from one of Spain's busiest fishing ports.
Don't miss watching the auctioneer auction off the fish too. Bought by the area's best restaurants and hotels, it'll show up on your plate soon after the buyer has obtained the best price. Once settled in to watch the auction, don't forget to take photos and video. It really is a fascinating experience, although so fast-paced you likely won't have a clue what's going on.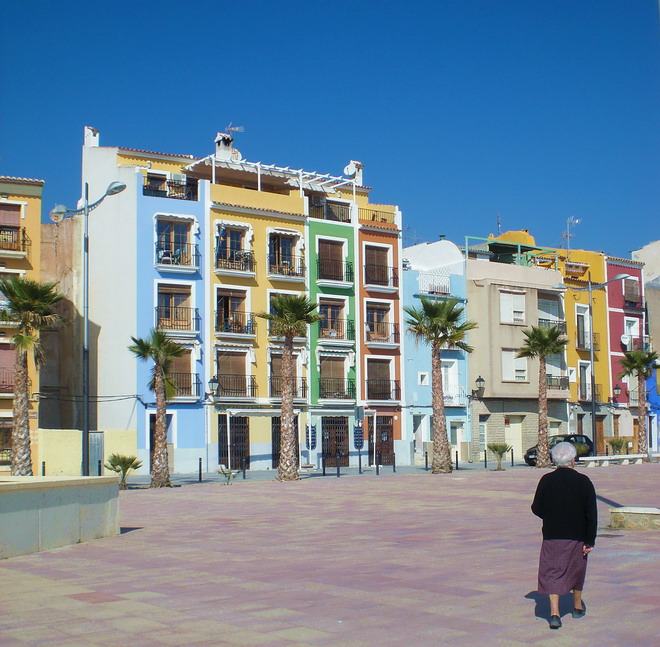 Visit the Colorful Fishermen's Houses – If you see any postcards of Villajoyosa, you'll see photograph after photograph of lines of colorful, tall houses. These are the original fishermen's houses that were always painted bright, multi-colors so, if the fishermen got lost coming back into land, they could see the colorful houses from a long distance.
Nowadays, visitors to Villajoyosa go down to the beautiful beaches and take photographs of the fishermen's houses, as they line the beach fronts for quite a way. Once you've snapped your pictures, continue to walk down the promenade all the way down the 3.5 kilometers of beach. In the winter, it's quiet and relaxing. In the summer, it's bustling with life and liined with lots of open-air coffee bars.