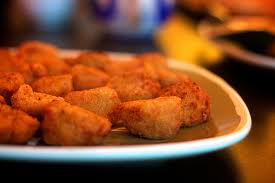 Any visitor to Spain comes across Spanish croquetas pretty quickly. Served in many of Spain's restaurants as well as in hotels and cafes, and often as tapas or appetizers, croquetas are cooked with ham, blue cheese, tuna, chicken, crab – you name it, if it's edible you can pretty much put it in croquetas.
The wonderful thing about Spanish croquetas is they're dead easy to make. I'm not the world's best cook and even I've managed to turn out some fairly decent, and tasty, croquetas from this easy recipe. Try it.
Ingredients:
2 large eggs
1/4 liter of milk
4 tablespoons of flour
3 tablespoons of extra virgin oil
Enough olive oil to fry prepared croquetas
150 grammes (around half a cup) of chopped ham
1/2 a chopped onion
2 cups of bread crumbs
Nutmeg
Salt and pepper to taste
Method:
1. Put olive oil in pan and heat. Add the chopped onions and saute, stirring constantly to make sure they don't stick to the bottom of the pan.
2. Add the flour and stir quickly, then add the milk little by little, mixing all the time to make sure no lumps form.
3. Sprinkle nutmeg, salt and pepper over the mixture.
4. Put the ham into the mixture and stir well. Place the mixture in a bowl and refrigerate for an hour.
5. Break the two eggs and whisk together. Make small croquetas-sized pieces with your hands and dip into the breadcrums. Then dip every piece into the whisked egg, making sure the whole croqueta is covered well. Roll again in the breadcrumbs and place on a plate.
6. Cover and cool in the refrigerator again for around 15 minutes.
7. Heat several cups of olive oil in a deep pan and fry the croquetas — three or four at a time — keeping your eye on then so they don't burn. Cooking time is only around 3 or 4 minutes.
8. Remove from the oil and serve hot.
This recipe serves 3-4 people.