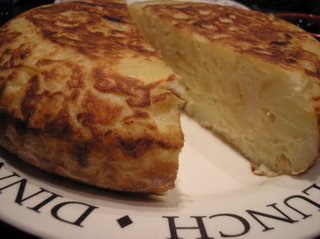 If you spend any time in Spain, you will be served a Spanish omelette or 'tortilla de patatas' – in fact, you will probably eat one many times, as they are made for all kinds of occasions.
You will also discover they are absolutely delicious and, when you get back home, be desperate to eat one again.
That is where this authentic Spanish omelette recipe comes in. It is easy to follow, quick to whip up an omelette, and the result will be wonderful. Just like when you were eating that slice of omelette in Spain.
Ingredients:
1/2 pint of olive oil
5 medium (40 oz each) baking potatoes, peeled, sliced and lightly sprinkled with salt
1/2 yellow onion, chopped
3 cloves of garlic, minced
5 eggs
Salt
Method:
Heat the olive oil in a frying pan and add the potato slices carefully, because the salt will make the oil splatter. Try to keep the potato slices separated so they will not stick together.
Cook, turning occasionally, over medium heat for 5 minutes. Add the onions and garlic and cook until the potatoes are tender. Drain into a colander, leaving about 3 tablespoons  of oil in the skillet.
Meanwhile, in a large bowl, whisk the eggs with a pinch of salt.
Add the potatoes, and stir to coat with the egg. Add the egg-coated potatoes to the very hot oil in the skillet, spreading them evenly to completely cover the base of the skillet. Lower the heat to medium and continue to cook, shaking the pan frequently, until mixture is half set.
Use a plate to cover the skillet and invert the omelette away from the hand holding the plate (so as not to burn your hand with any escaping oil).
Add 1 tablespoon oil to the pan and slide the omelette back into the skillet on its uncooked side. Cook until completely set. Allow the omelette to cool, and then cut it into wedges. Season it with salt and sprinkle with lemon juice to taste (optional).
Serve warm or at room temperature.