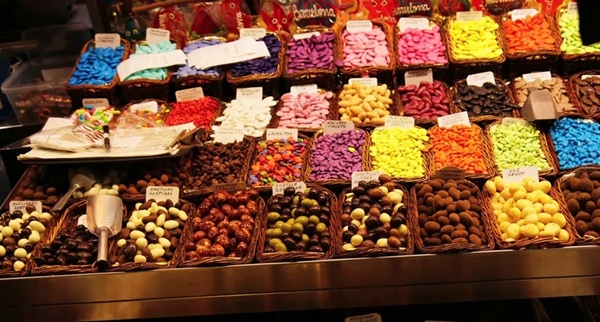 If you are a foodie and in Barcelona, you cannot miss visiting La Boqueria.
Known as one of the best food markets in the world, if not the best, the variety of fresh food at La Boqueria is absolutely amazing. Fruits and vegetables, cookies, cakes, nuts, cheeses, candy and sweets, tea, wine, chocolate, bread and pastries, fish and meat, spices and much much more are available to buy here.
I was going to wax on about how beautiful La Boqueria in Barcelona is, and talk about everything you can buy here. Then I came across this amazing photo video from Lost and Found Travel who, in just a few gorgeous photographs taken around La Boqueria, show you exactly what you can expect to see and buy.
I will tell you though, a market similar to this has been in this vicinity since around 1217. You don't get much older than that.
You will find La Boqueria at La Rambla 89 — just walk down Las Ramblas until you find it.
The market's official name is Mercat de Sant Josep de la Boquería, but ask anyone to point you in the direction of La Boqueria and, unless they are new in town, they will immediately know where you should go.
For more information about La Boqueria, check out the market's excellent website.