Metropol Parasol in Seville: Spectacular Example of Modern Spanish Architecture (Photos)
Metropol Parasol – a spectacular example of modern Spanish architecture
Seville's Metropol Parasol truly is an incredible thing. The six 30-meter high parasols mushroom over the city, revitalising the Plaza de la Encarnación and putting Seville on the map yet again. Yet the whole structure is made of only timber and steel, and literally held together with glue. How cool is that?
Of course, there will always be the naysayers that say the Metropol Parasol in Seville is completely out of step with the rest of the city and not the direction modern Spanish architecture should be going in (And, yes, I'm aware it was designed by German architect Jürgen Mayer-Hermann, but it is still a Spanish building).
I have to disagree.
After all, the Metropol Parasol was built in a part of Seville few people ever chose to go to as there was simply nothing particularly interesting there. Now, the recently opened Metropol Parasol offers visitors cool shops, a market and even a stage for concerts and plays.
There's also a restaurant, a viewing gallery and alarge amazing walkway that you can wander along and not only appreciate the design of the structure itself, but also Seville itself. You'll get some great photos of the Metropol Parasol and Seville from here as well.
And don't miss the ancient Roman ruins in the basement, complete with mosaics and parts of houses.
In fact, if you're planning a trip to Seville, the Metropol Parasol should be one of the first things you plan to see. Whether you thing it's a good example of modern Spanish architecture or not, as it really is spectacular and unlike anything you will will have ever seen before.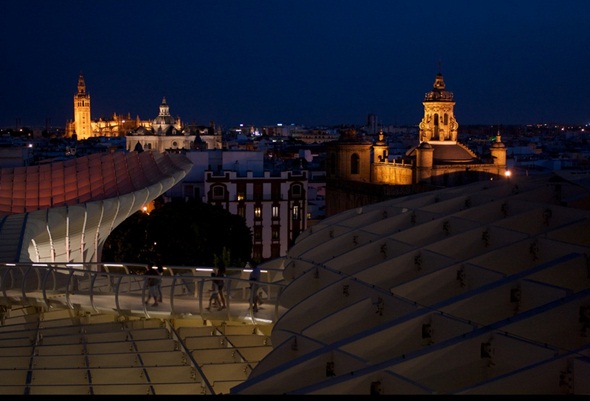 For more information about the Metropol Parasol in Seville, Yatzer has an excellent article and some truly amazing photographs.