Phone, Internet and Computer Service in Albir, Spain at Telc-Shop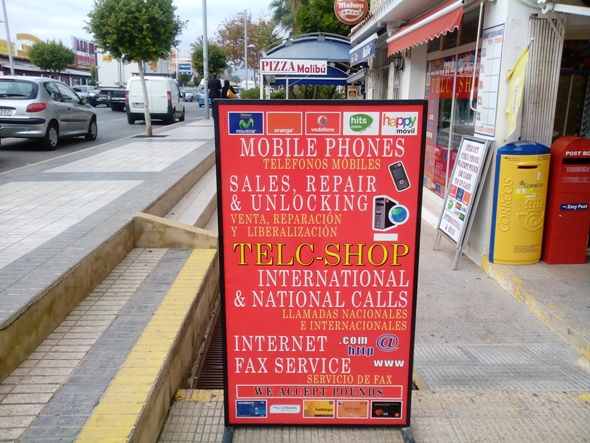 Best place to get phone, internet and computer services in Albir, Spain
Are you planning on having a holiday in Albir, Spain?
Worried about finding a place to get phone, Internet or computer services in Albir?
If so, you certainly do not need to worry as there is an excellent shop — Telc-Shop — right in the centre of Albir providing everything you could possibly need, and at relatively reasonable prices.
Telc-Shop in Albir
Telc-Shop is an excellent computer, Internet and mobile phone shop located in Albir that not only sells, repairs and unlocks mobile phones, they also have landline phones where you can make both national and international calls.
If you are looking for fax services, Telc-Shop in Albir can provide those as well and, if you need Internet service, they can either sell you a dongle and Internet service for as long as you need it, or let you use their desktop computers to get online for a reasonable price.
Telc-Shop staff speaks English
What is even better about Telc-Shop is that all their staff speaks excellent English, and the owner himself is also completely fluent. That means, if you have any technical problems you need help with, or your computer dies and you need it fixed, it is no trouble at all to explain exactly what you need and they will always understand.
In the numerous times I have visited Albir, my experience withTelc-Shop staff has been exceptionally good, and I have walked away with exactly what I needed in just a matter of minutes.
I have bought a dongle there and Wi-Fi internet service, as well as used their desktop computers to get online, and mailed postcards through their mail services, and I have been happy with the customer service I received every time.
If you are looking for a reputable company where getting everything Internet or phone based for a visit to Albir is easy, I can't recommend it enough.
You will find Telc-Shop in Albir right on the main street just across the road from the Consum supermarket at Avenue l'Albir, 46.  Go right when they open, and you will leave even faster, as they can get quite busy as the day progresses.