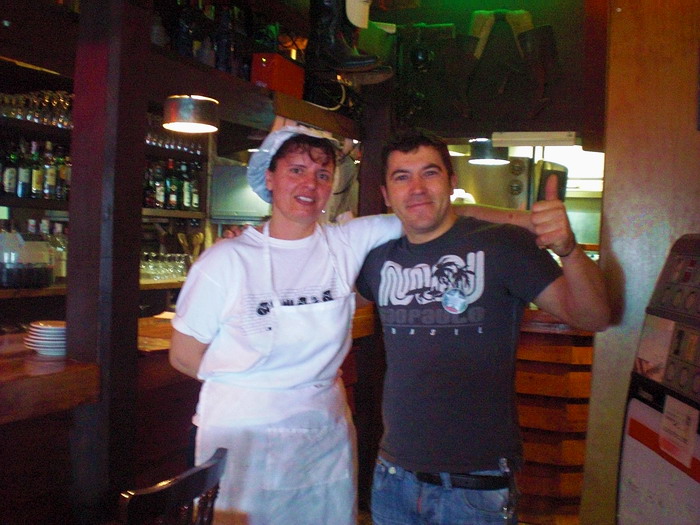 While on vacation in Albir, Spain with my parents we ate lunch at a popular beach front restaurant called Country Ribs. My aunt and uncle were in town and, with a larger-than-normal family get together and beautiful weather, we decided to eat at a restaurant with an ocean front view where we could eat outside.
Country Ribs was ideally suited, just at the end of the block from our hotel and, with its pretty outdoor patio and many recommendations from fellow travelers, we decided to give it a go.
After just one lunch at Country Ribs I can easily say, if you are looking for American-style food while on vacation in the Albir, Spain area, then look no further. This is the place.
How to Find Country Ribs in Albir – One of the easiest restaurants to spot, Country Ribs is on the same block of beach front as Albir's only ocean side hotel, the Hotel Kaktus Albir. Just find the Hotel Kaktus Albir and walk past it towards Altea. Country Ribs is the last restaurant on the block, which you'll find immediately with its pretty patio seating and rugged 'American Wild West' style.
Nice Touches at Country Ribs – As a travel writer, one thing I always notice about any restaurant when I first arrive are the little extra touches. Country Ribs had these in abundance.
Upon arrival, we were immediately ushered to a lovely outdoor American-style wooden table and benches. Looking out over the gorgeous Albir sea front and right on to Calpe, you couldn't ask for a better view.
The waiter too was lovely. Friendly, funny and speaking enough English to have a joke with us, he was helpful answering menu questions and an all-around nice guy. We noticed too, because of the sometimes-chill-in-the-air, another lovely extra touch is Country Ribs provides cuddly blankets for each table. So, if you're suddenly overcome by a blast of fresh sea air, don't worry, cuddle up under that cozy blanket and you'll be fine.
We also loved the metal bucket of peanuts in shells that arrived with our drinks. A great quick snack before the food arrived.
The Food and Drink at Country Ribs – With my family, being European, the drinks are often just as important as the food. So, before we'd even ordered from the menu we asked for a couple of bottles of the house wine, which was dutifully delivered to our table and was lovely. A vino tinto (red wine), it was dry but not too dry and had a lovely fruity taste. Extremely good in fact for just a few euros a bottle.
Then we started on the menu. Being as large as it is, this was no easy task but, after deliberating over chili con carne, steak, ribs (in lots of different sauces), burgers, sandwiches, salads, chicken, chicken burgers and lots more, my father and I decided on steak burgers with french fries and coleslaw, and my mother had an American sandwich (ham and cheese served with french fries, coleslaw and a mayonnaise dip).
My aunt and uncle plumped for barbecued ribs and chili con carne with rice.
When the food arrives, the first thing you notice is, like in America, portions are big. The next is how tasty and flavorful everything is, from the thick, satisfying french fries to the slabs of pure meat for the burgers and the massive sandwich my mother received.
My aunt declared her ribs "Outstanding" and my uncle was tucking into his chili con carne so deliberately, he didn't have time to speak.
After an extremely satisfying meal at Country Ribs, the entire bill for five people, including two bottles of wine was just less than 60 euros (around $83). An inexpensive price for a good meal, a beautiful ocean front view and some decent wine.
Country Ribs serves a huge menu, their staff is lovely (i even met the chef later, who was brought out of the kitchen so I could take a photo – see above), and their location perfect. On colder days, sit inside the restaurant. It's huge and all decked out in an American Wild West theme – dark, moody, lots of wood and with boatloads of bottles of booze.
Take note too, Country Ribs has live country music every Thursday evening so, if you are a country music fan, this is the place to be.
Country Ribs is at on the Edificio Playa Mar III (Paseo de las Estrellas) in Albir (ocean front), with another location at Avenida Derramador in Rincon, Benidorm.