Restaurante Maryvilla in Calpe, Spain: Romantic Spot, Incredible Food, Beautiful Location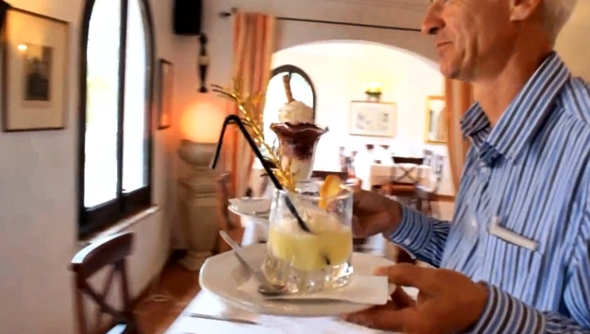 Are you looking for the perfect restaurant in Calpe, Spain? Do you want to eat at a restaurant that not only serves incredible food but is in one of the most beautiful spots on the Costa Blanca? Do you want a romantic Calpe restaurant? Or a family-friendly Calpe restaurant where you can not only take grandma, grandad and the great aunts but also all the kids too?
Then do not miss Restaurante Maryvilla. It is perfect for every occasion and every person.
Restaurante Maryvilla in Calpe was opened in 1990 by German chef Werner Esser and his wife Jane. It is located just outside town in the urbanization Maryvilla – hence the name.
In the 12 years it's been open, Restaurante Maryvilla has earned a reputation as one of the best restaurants in Calpe. With a superb selection of both German and Spanish cuisine, you'll find a huge menu that concentrates on homemade soups, fresh fish, seafood, spaghetti and other pasta dishes, rack of lamb, duck, Spanish jamon,  and a huge selection of typical German offerings.
The restaurant's desserts too are out of this world.
What sets Restaurante Maryvilla apart even more than the amazing food though, is its beautiful location overlooking the ocean and the mountains, as well as the restaurant's comfortable yet elegant design.
For more information about this wonderful restaurant, truly one of Calpe's best eateries, browse the Restaurante Maryvilla's website and, of course, watch the gorgeous video below.
Then……make a reservation. You will definitely be happy you did.

Restaurante Maryvilla – Calpe/Alicante by vi-woods