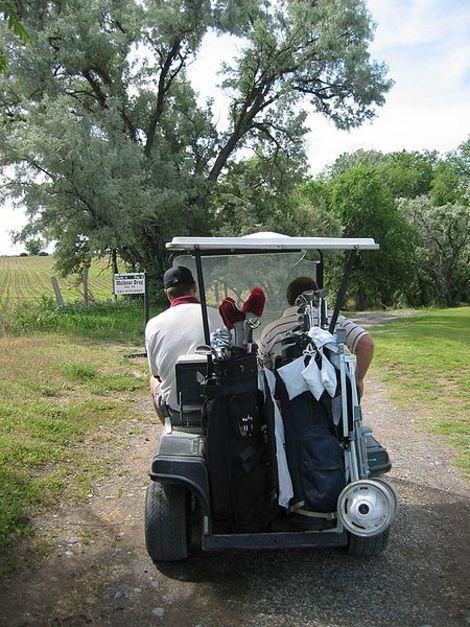 Spain is one of Europe's top destinations for golfers and Barcelona one of the most popular places to play golf. Barcelona has year-round almost perfect weather for golfing, prices are inexpensive compared to much of the rest of Europe and, with more than 10 world-class golf courses to choose from, you could play here all month and never get bored. On a first trip playing golf in Barcelona, start off with these three courses. They're known as some of the best Barcelona has to offer.
Saint Vicenc de Montalt Golf Club – Known as having one of the best courses in Barcelona, the Saint Vicenc de Montalt Golf Club is one of the newer clubs on the Barcelona golf scene. Just 25 kilometers outside Barcelona, it's known for its challenging 18-hole course, as well as for being a great place for golfers of all ability levels to enjoy a few rounds.
The par 70 golf course is beautiful, the surrounding area very pretty and you'll love the club house with its restaurant, bar and pro shop. The staff is helpful and friendly too.
You'll find the Saint Vicenc de Montalt Golf Club at Calle Del Balís 4, Sant Vicenç de Montalt, 08394 Barcelona.
Real Club de Golf El Prat – The Real Club de Golf El Prat may have been open for more than 60 years but it might as well be a new place since it was moved to a new location a couple of years ago. The new golf course was designed by world-famous golfer Greg Norman and consists of a 45-hole challenge even an experienced golfer will find difficult enough that they'll love it.
Located just over 20 kilometers outside Barcelona, it's known as one of the best Barcelona golf clubs due to not only its challenging course, but its facilities. So serious is the club about finding the best golfers, they've even built a school with its own small golf course, so they can find the best golfers right when they're first beginning to learn to play. Add onto that its superb club, with its pro shop, restaurant , swimming pool, gym and children's nursery, and you'll love playing here.
Contact them at Plans de Bonvilar 17, 08227 Terrassa, Barcelona – Tel: 93 728 10 00 – It's a private club but, if you call in advance and make arrangements, they'll let most people play a game or two here.
Sant Joan Golf Club – Of course, Severino Ballesteros was Spain's most famous golfer, ever, so you can only imagine how proud the Sant Joan Golf Club is to have a golf course designed by him.
At Sant Joan, the 18 hole par 72 course is tricky and difficult, and not a good place to play for novice golfers. But, if you've had a fair bit of experience and love a challenge, you'll want to play at Sant Joan every day. It's recommended you hire a golf buggy though, as it's a physically demanding course to walk, and you don't want to wear yourself out between holes or you'll never complete the course satisfactorily.
The club has a pro shop, a golf school, a driving range, and, if you want some instruction, you can hire a golf pro for a few hours to help you. The club doesn't have caddies available though, which is another reason you'll want to hire the buggy.
You'll find the golf club at s/n. Apartado de Correos, 148, Rubi 08191 Barcelona.