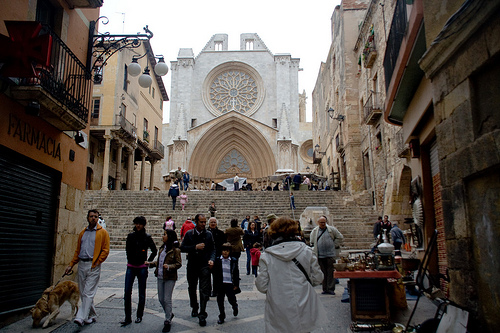 Tarragona is the capital city of the Catalonian region of Spain. Once called Tarraco, and a colony of ancient Rome, this old city part of Tarragona is now a UNESCO World Heritage Site. One of Spain's top tourist destinations, particularly for those who love archaeology and visiting historical sites, there's so much to do in Tarragona you'll need a few weeks to see it all. Start off with these top five best things to see and do — you won't be disappointed.
Roman Remains of Tarraco – One of the main reasons the majority of tourists visit Tarragona is to see the Roman remains of Tarraco. Named a UNESCO World Heritage Site in 2000, there's a 2nd century amphitheater, a large aquaduct, several religious buildings, and old city walls, as well as part of the Aurelian Way, which runs through Tarragona.on its way to Rome. The remains are some of the best preserved Roman remains in this area of Europe, and are visited by hundreds of thousands of people every year.
National Archaeological Museum of Tarragona – Known as MNAT, the National Archaeological Museum is an enormous building, which has been open for almost 200 years, making it one of the oldest museums in Spain.
Here, you'll find mainly Roman antiquities, excavated from hundreds of sites around Tarragona several hundred years ago. Some have come from organized archaeological digs. Others were found by residents in their own back yards.
The Tarragona area was occupied by the Romans for hundreds of years, although it's thought some of the city may have been founded by the Phoenicians as far back as 1,000 years BC, so it's not unusual for new finds to be added to the museum's collection every year. If you enjoy archaeology, you'll love the Tarragona museum. It's one of the finest in Europe.
Explore the Old City – The most interesting area of Tarragona is the old city. A labyrinth of narrow, winding alleyways packed with cafes, restaurants, boutiques and tapas bars, Tarragona's old city is a wonderful place to discover ancient churches, to walk Las Ramblas, and to discover the beautiful views out over the city from the viewing area known as the Balcon de Europa.
PortAventura Amusement Park – One of the largest amusement parks and resorts in Spain is located just outside Tarragona. If you have kids with you, or even if you don't, it's an excellent place to spend the day, or longer. The park is split up into several areas — Mediterrania, Mexico, Far West, China, Polynesia, and SesamoAventura, the Sesame Street area of the park — with each area featuring specific rides, restaurants, cafes and activities.
There are hundreds of rides, an aquatic park, a monorail, the Grand Canyon rapids, play areas for little kids, a huge lake, four hotels, lots of restaurants and cafes, gift shops and more. You can easily spend two to three days here and not see everything. It is Spain's second largest amusement park though, so expect crowds.
If you're in Tarragona at Halloween, Easter or Christmas, don't miss the PortAventura Amusement Park. The park has special activities, decorations, parades and festivals for many holidays and they are quite spectacular.
Eat Tarragona Cuisine – On a visit to Tarragona, one of the best things to do is to gorge on the area's rich cuisine. Really. Famous for traditional seafood and fish dishes, Catalan cuisine and stews, Tarragona's most famous dishes include various eel dishes, frogs legs, pigs trotters, olive dishes, paella, meat and fish casseroles and, of course, dishes that take advantage of the area's enormous quantities of fresh fruits and vegetables.
Restaurants in Tarragona range from inexpensive tapas and bistro-style bars to world-class eateries, catering to every price range and taste.