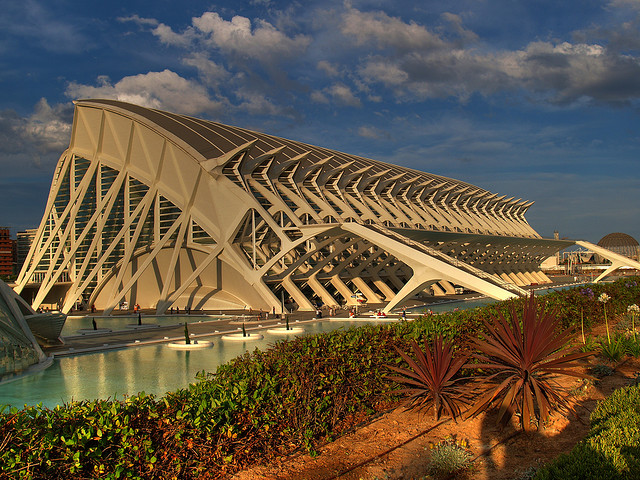 You must not miss these top things to see and do in Valencia, Spain
Going on your first trip to Valencia, Spain?  While there are so many things to see and do, there are five must-see things Valencia is famous for, and any first-time visitor to the city shouldn't miss them.
La Ciudad de las Artes y las Ciencias – The City of Arts and Sciences Complex in Valencia is famous all over the world, not only for its incredible exhibits but for the sheer artistry of its buildings.
Consisting of four museums– the Palau de les Arts, the Museo de las Ciencias, L'Oceanografic, and L'Hemisferic–there's something for every member of the family here.
Website: The City of Arts and Sciences Complex
Jardin Botanico – The Botanic Gardens were created in 1567 as a place to study medicinal herbs and plants. Nowadays, it's maintained by the University of Valencia, and is one of the prettiest places in the city to visit, with more than three thousand species of plants and trees to see. Spend a morning there walking around admiring the beauty.
Tickets are cheap too – only a couple of euros or why not get a monthly pass even cheaper per visit.
Website: Jardin Botanico
Plaza del Mercado – The Plaza del Mercado is where you'll find the Central Market, the Silk Market (Lonja de la Seda) and the Santos Juenes Church.
Take an early morning trip here and gorge yourself on some of the best food in Valencia. The Central Market has more than 1,000 places to buy food and it's all incredible.
Enjoy a relaxing breakfast (they open at 7:30am), then take a stroll to the Santos Juenes Church and on to the Lonja de la Seda, Valencia's most famous and some say most beautiful building.
Website: Central Market
Museo de Bellas Artes San Pio V – If you love paintings, the Fine Arts Museum San Pio V should be your first must visit place in Valencia.
Known for having one of the finest collections of paintings in Spain, the Museo de Bellas Artes San Pio V has work by El Greco, Velázquez, Murillo and Goya, just to name a few. It is located in a stunning Baroque building and is a place where you could spend all day lost in the beauty.
There is a wonderful cafe too, if you really do plan on staying there until dinner.
Website: Museo de Bellas Artes San Pio V
Playa de la Malvarrosa and Playa de las Arenas – A trip to Valencia wouldn't be complete without a visit to one, or both, of the city's amazing beaches.
Lie on the sand, swim in the ocean, stroll along the promenade and have lunch (or dinner) at one of the many cafes and restaurants overlooking the beach.