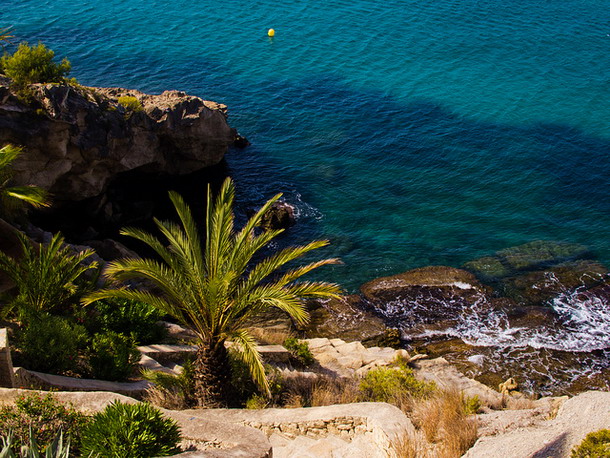 On a recent trip to the Moraira, Spain, a friend and I headed out to some of the incredible dive sites around the region, as he's a dive instructor and I'm working on dive certification. With so many dive sites to choose from in the Moraira area, we dived around Cap D'Or, El Portet and an area called The Maze. Overall easy dives, the water is clear, the marine life abundant and the experience phenomenal and, if you're also looking for some of the best dives in the area, these three can't be beaten.
Diving in the Cap D'Or Waters – What is known as the Cap D'Or area of Moraira is just off a headland, close to the Torre Vigia Cap D'Or, an old tower on the highest point of Caba D'Oro, and once a lookout for the pirates that used to raid the Moraira areas. The waters around Cap D'Or are clear and relatively calm, so anchoring and descending into the water was easy and safe.
Diving around Cap D'Or, the water is stunningly clear, there's a rocky bottom with various interesting rock formations to swim around and through, and a cave area that goes back around a few hundred meters. You'll see amazing varieties of marine life, from octopus to starfish, anemone and sea breem and, of course, the lobster the Moraira area of Spain is famous for.
If you want an easy dive, with a maximum depth of around 20 meters, you'll love diving around Cap D'Or. There are several dive shops in Moraira that know the waters well and, particularly in off-season when we went diving, the prices are inexpensive and you can do a little bartering.
Diving in the Waters off El Portet – One of the prettiest areas of Moraira, (and Moraira is a beautiful town), the small bay or cove of El Portet is a wonderful place to dive. With lovely houses and villas stacked up on the cliffs above, before you even start your dive, you're already realizing you're in one of the most beautiful dive locations in the world.
El Portet is just about the easiest dive site around Moraira. With a maximum depth of 7-8 meters, for beginning divers like myself, it's the perfect place to get your feet wet (okay, I couldn't resist!). Just jump off the small cliff area overlooking the water and into the shallows. From here you can make your way down into what's a mostly sandy area of water, with a slight rocky bottom. Swimming is easy here, with very little current, and it's easy to see Pinna Nobilis shells, cuttlefish, sea breem, lobster (in season), and saupes.
Just be careful around El Portet, if you're diving in peak season, as we were warned by the dive shop we went through that that particular area of water around Moraira has a lot of boats, and you don't want to end up getting hit by one.


The Maze – The most fun dive sit off Moraira, Spain is an area called The Maze. Just a few minutes by boat from Moraira, it's close to the Cala Liebeig and is made up of caves and rocks, through which you can swim just like you would in a maze.
Another easy dive, and don't worry, you can't get lost – just anchor in the calm waters, dive in and look for the caves, mini rock formations, sea bream, octopus and anemone.
The Maze was our last dive spot in Moraira and the one I enjoyed the most as, although not challenging, (the maximum depth is only 12 meters), it was a blast swimming around all the rocks and more interesting than other simple dives I've done in other areas of the world. The water is warm too.