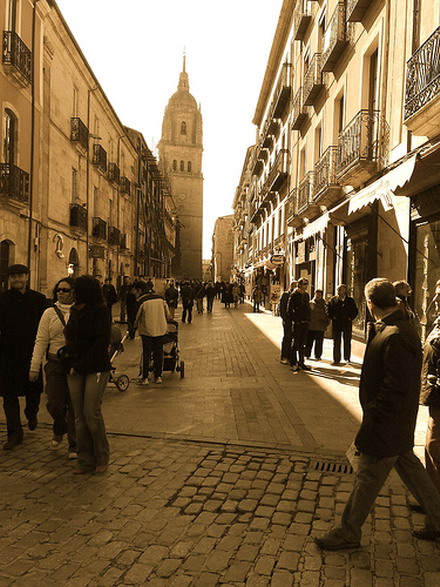 Around a two-hour drive from Madrid, Salamanca is much more low-key and laid-back than the capital city but, don't be taken in by that. It still has lots to see and do. Start off with these top must see and do things in Salamanca. You'll have a lot of fun.
Salamanca University – No visit to Salamanca is complete without a trip to Salamanca University, so it's no wonder this is on most 'Must Do and See' lists. Founded in 1134, it's Spain's oldest university, and is popular today for its Spanish language programs for non-native speakers. See the university library, with its books and manuscripts dat ing back to the 11th century. Visit the old classrooms, and don't miss the university museum. Take photos too — it's beautiful.
Plaza Mayor – The most visited place in Salamanca, Plaza Mayor is a wonderful place to enjoy a meal or grab a cafe con leche while admiring the stunning architecture and watching the city walk by. At night, Plaza Mayor is also the place in town for entertainment as you'll often see student groups from the university that come into the square to sing. The groups are called Tunas, they wear 17th century minstrel costumes, and even compete against each other — song against song. An incredibly fun night and a unique experience.
La Gran Via – Not necessarily on the tourist track, La Gran Via is the main avenue in the Salamanca and is lined on both sides by old hotels, restaurants, cafes and stores. It's a wonderful avenue to stroll down, as you get to see the real Salamanca and experience it the way the residents do. Don't miss taking photos of the old stone crests on the various buildings, and make sure you save time for a sit at a cafe. It's lovely here.
Casa Lis Museum – Salamanca has many museums but the Casa Lis Museum is the must see one. Dedicated to Art Deco and Art Nouveau, it houses more than 2,0000 pieces of art and is one of the largest museums of its kind in Europe. It's not just paintings though. You'll find toy and doll collections, furniture, pottery and ceramics, and much more.
The museum also has gorgeous views through beautiful windows looking out over the river, and don't miss the museum's cafe too. Great food, good coffee and a lovely atmosphere.