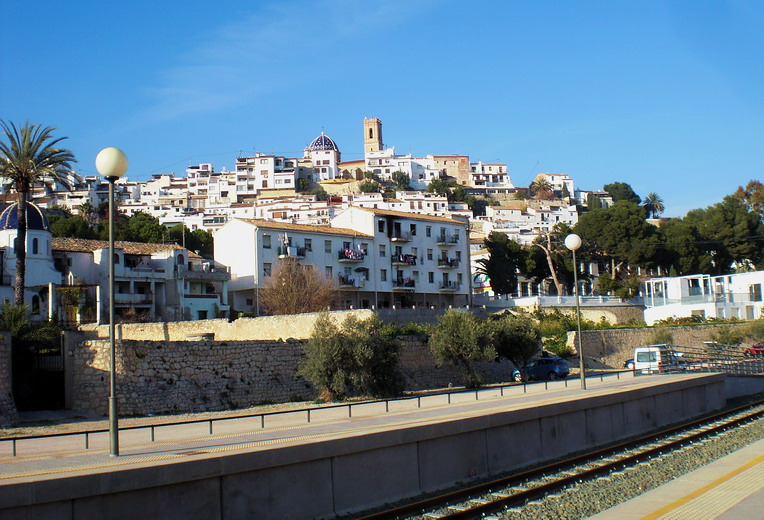 The coastal area in Spain from Benidorm to Denia is pretty amazing.  Small towns sit along the ocean, one after another, all the way along this huge stretch of coastline. One of the most fun ways to spend a day or two in the Benidorm area is to hire a car and drive north along the coast, beginning at Benidorm, stopping off at places in between and ending up, as the evening arrives, in Denia. If you're up for a bit of an adventure — here's what you should see.
Albir – One of the first stops on the way from Benidorm to Denia is the tourist town of Albir.  A thoroughly modern town full of rental apartments and hotels, Albir still has a nice cozy hometown feel to it. Grab a coffee at one of the many cafes running all along the main street. Walk down to the ocean and take a stroll along its gorgeous promenade (you can see for miles, almost to Calpe). Then head back and grab a beer at an ocean-front cafe, before getting back in the car and continuing on (of course, if you drank the beer, you probably should not be the one driving).
Altea – Right next to Albir (the two towns run right into each other), Altea is a gorgeous town up on a hill, with a lovely church, superb views out over the ocean,  a couple of squares, some nice shops and cafes, and a beautiful ocean front. Don't miss the old town area either, with its gift shops and craft shops.
Calpe – Another oceanside town, Calpe is know for the massive Calpe Rock, the Peñon de Ifach, its fabulous fresh seafood restaurants, the working fishing harbor, an old town with art galleries, museums, tapas bars and gift shops, and two enormous promenades that span the whole town. Calpe is the perfect place for lunch at a fish restaurant by the harbor or in a tapas bar in old town.
Javea – A very pretty town, just down the coast from Calpe, Javea has an old town, a beach area and a small port. There's a wonderful fresh food market, a Gothic church, a nice beach area with lovely views out across the bay, and some of the area's best scuba diving.
Denia – Arriving in Denia, don't miss Denia's pretty main street that's lined with cafes, restaurants and bars. There's an 11th century castle with a museum, Iglesia de la Asuncion church, and the ferry to Ibiza, which leaves once a day.
These are just a few things to do in every coastal town from Benidorm to Denia. Each town is strikingly different, yet each is beautiful, interesting and well worth a few hours of your time.