What to Buy at the Sunday Market in Albir, Spain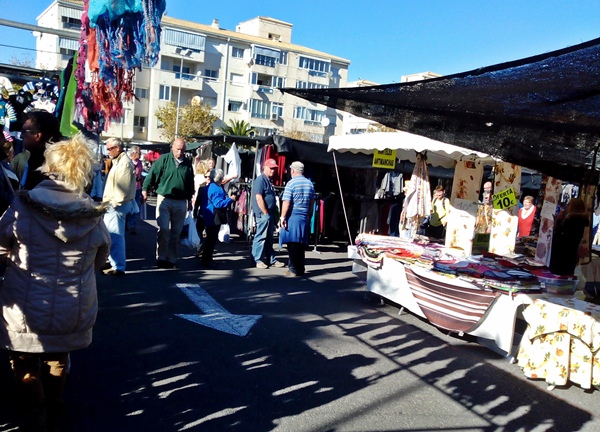 The first time I visited Albir, Spain the Sunday market had only just opened the week before.
Three years later, the Sunday market in Albir, Spain is one of the most popular markets in the area with people coming from miles around to shop. With stalls selling clothing, household items, food and more it's a wonderful place to not only buy what you need, but also to get some of the lowest prices and highest quality products in the area.
If you are planning a visit to Albir and will be there on a Sunday, don't miss visiting the market. It's on the parking lot in the middle of town, so impossible to miss and, with so many things available to buy, you'll have a wonderful morning. As for the best things to buy at the Sunday market in Albir, here are the things I recommend although, of course, you'll find many other wonderful items as well.
Clothing – Clothing is one of the first things I buy as soon as I hit the market. In fact, I go from clothing stall to clothing stall to find the best bargains before everyone else does. Shirts, skirts and t-shirts as low as 1 euro ($1.35) and jackets, pants and sweatshirts for less than 5 euros ($ ). You really can't beat the prices here, and the quality is lovely.
Jewelry – There are several stalls that are owned by jewelry makers in the area and the rings, necklaces and bracelets they sell are gorgeous. Of course, you won't pick up a hand-crafted ring or hand-worked bracelet for $3, but you can guarantee everything you buy is beautifully made and one of a kind. If you're looking for gifts to take back home with you, you can't beat something from one of these sellers.
Purses and bags – Spain is known for its handcrafted leather so, of course, there are several stalls selling hand-crafted leather purses, bags, belts and even slippers. Pick up a lovely soft leather wallet for 10 euros or a shoulder bag or clutch purse for 25 euros. Gorgeous colors, beautiful styles and perfect for either you or someone special in your life.
The last time I shopped at one of the purse stalls at Albir market, I picked up a stunning mustard and green clutch purse for evenings, which I've used now for the last two years and still get compliments on every time I use it. For 9 euros, it was quite a bargain I'd say.
Food – I normally stay in a hotel in Albir that offers all-inclusive board, so buying food isn't usually my priority when in Spain. I do, however, make an exception when it comes to bread, pastries, and nuts at the market as they are all sold by local bakers or growers and they really are delicious. Don't miss the enormous mobile butcher's, the orange sellers or the one selling bread and pastries. A slab of cheese or some Parma ham, a large baguette and a bag of Valencia oranges will make several delicious lunches and at an extremely low price.
Spices – Every time we visit the market we usually come away with bags of spices and herbs that are more difficult to buy in other areas, particularly for the high quality. One stall sells them in small bags or large jars and at very competitive prices, so it's easy to pick up exactly what you need to cook your next meal.
Tablecloths – The Alicante area of Spain is known for its brightly colored tablecloths and napkins, so you'll find several stalls selling them here. With both traditional designs and more modern flavors, you can pick up a tablecloth for a dining table or a small coffee table or, if you're close to the Christmas season why not purchase something with Santa or reindeer decorating the borders? At less than 10 euros in many cases, they certainly don't break the bank and the quality is superb. Most are machine-washable as well.
The next time you're planning a trip to Albir, I highly recommend you do so on a Sunday morning. The market is in full swing by around 9:30am and continues until the early afternoon. Buy a few beautiful quality products, pick up food for your next few meals and then enjoy a coffee and a croissant at one of the mobile cafes. Yes, the market even has these as well.