As an internet travel writer, the first thing I do when I arrive in a new place is find out where the Wi-Fi connections are. Currently on vacation in Albir, Spain, I was worried before arriving as I couldn't find much on the internet about cafes or bars with Wi-Fi in Albir.
Needless to say, there was no need to worry as, I realized quickly, getting free Wi-Fi at a cafe or bar in Albir was going to be a piece of cake.
Albir 21 – One of the small cafes just around the corner from the Hotel Kaktus Albir, Albir 21 offers not only free Wi-Fi internet connection but a darn good menu too.
A fully-fledged cafe, restaurant and bar, at Albir 21, you can sit inside if it's chilly or outside on the patio on sunny days. The cafe's Menu del Dia (Menu of the Day) is excellent, with a three course meal and coffee for only 8 euros 50 cents ($11.80), a small breakfast and a coffee for 3 euros 50 cents ($4.85) and various other daily specials. They serve breakfast, lunch and dinner every day.
The owner is lovely and friendly and, if you want to sit there for a few hours surfing the internet with just a cup of coffee or two, there's no problem at all (although I do recommend the food). Plus, it's just a block from the beach so, after hitting the Wi-Fi for a bit, shake off the cobwebs with a walk along Albir's beautiful promenade.
La Copa – One of the extremely popular small cafes right on the main street in Albir, La Copa has free Wi-Fi internet and some of the cheapest food in Albir.
Grab a sidewalk table or one of the couple up on a teeny tiny raised patio and surf the internet, while enjoying some fine food and watching the crowds walk by. La Copa serves apple pie and coffee for 3 euros ($4.15), brandy and coffee for 2 euros 50 cents ($3.45), and the same goes for coffee and Bailey's Irish Cream.
La Copa's Wi-Fi is fast, and it's also a fun place to meet people as it's crowded all day.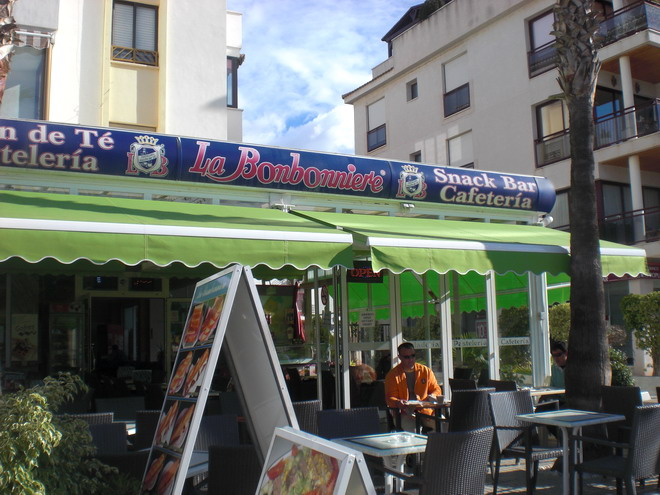 La Bonbonniere – Further down the main street past the Consum supermarket and close to the car park (and Albir's Sunday market), you'll come across La Bonbonniere. One of the most packed cafes in Albir, La Bonbonniere not only serves slices of just about every cake you've ever heard of (at dirt cheap prices too), they also have amazing cafe con leches (the Spanish version of a latte) and free Wi-Fi internet.
Don't miss their great selection of bocadillas (Spanish sandwiches on baguette bread) too, or a lovely salad. Lunch and a coffee can be had here for just over 5 euros ($6.95), the location is great as it's on the main street where everyone walks by, and the Wi-Fi internet is fast and reliable.
Universal Lounge Bar – Known simply as Universal, and hugely popular with the Norwegian expats and tourists who come to Albir, this cafe and restaurant not only has free Wi-Fi internet connection they seriously make the best cafe con leches in Albir too.
Be warned, Universal is very busy but if you like hectic places with lots of people coming and going and a fun atmosphere you'll love it, particularly as the waitresses always manage to keep up, never forget an order (it's all electronic) and your food and drink arrive quickly.
Universal is just past the car park on the main street in Albir and is busy from early in the morning till around 5pm. If you plan on working for a while on your laptop, I recommend getting a table inside as the patio tends to be sunny (murder for glare on your computer screen), whereas inside it's darker, cool and a bit less hectic.
Many of the other cafes, bars and restaurants in Albir also have free Wi-Fi internet connections, so you can hop from one to the other all day just for the price of a coffee.