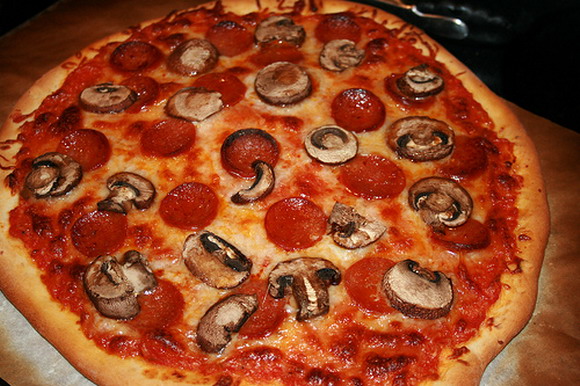 We are pizza lovers so, on our last trip to Madrid, we were thrilled to find the city had so many excellent pizza restaurants. Tasting completely differently than most American pizzas, the pizza available in Madrid has its own taste but, boy, is it delicious and, surprisingly or not, we didn't find a bad pizza parlor among the lot.
These three however we deemed served the best pizza in Madrid. See if you agree.
El Mundo de laPizza – The World of Pizza, and yep, it certainly is. At El Mundo de la Pizza, you'll find a massive menu with a myriad of different toppings and ways to mix them.
Unlike some Madrid pizza restaurants, El Mundo de la Pizza serves thick crust pizza, that's doughy, chewy and downright delicious.  Try their pepperoni and mushroom, Italian sausage, or jamon, olives and pineapple. Yum. Pizzas are large and reasonable in price. Plus, they also serve pasta, salads and more.
To get there take the metro to San Bernardo. It's a quick walk to C/ de San Bernardo 85 from there.
La Vita é Bella – We asked so many people for recommendations for good pizza, and La Vita é Bella (Life is Beautiful) was recommended time and time again. There are a few locations too.
Just a small pizza restaurant, both times we went it was extremely busy but, even though we had to wait a few minutes for our order, well worth the time spent. Pizza choices are limited to about 15 different types but, for most pizza lovers, they cover the usual.
One pizza will feed one very hungry person, or two normally-hungry ones. Plus, if you share a pizza between two of you, you'll have plenty of room left for one of their amazing cannolos.
They also serve pasta, sandwiches, salads and calzone.
All the La Vita é Bella locations in Madrid can be found on their website.
Pizzeria el Trebol – Owned by two men who decided they wanted to serve Madrid's best pizza, for almost 20 years they have managed it.
Just a small hole-in-the-wall restaurant, and always busy, Pizzeria el Trebol makes your pizza in front of you while you wait, so you can see exactly how fresh and delicious it's going to be. There are only a few tables and it gets very busy, so get there early if you want to be able to relax and take your time.
The pizza is Argentinian style, which we'd never had before but it was amazing, and they also serve espadillas, and delicious desserts.
You will find Pizzeria el Trebol at Calle de la Cruz, 3 , in Madrid.