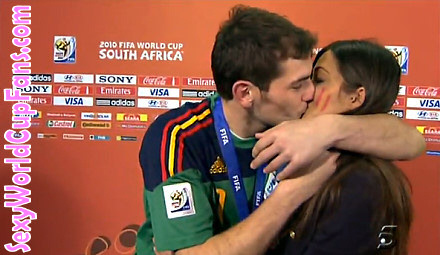 Should Spanish team captain Iker Casillas have kissed his reporter girlfriend Sara Carbonero on camera while she was trying to interview him about Spain's World Cup victory? Easy to answer. Yes. Yes. And, oh, yes.
A few weeks ago, when the 2010 World Cup first started in Johannesburg, Spain played their first game against Switzerland and lost 1-0. Soon news stories popped up all over the internet blaming TV reporter Sara Carbonero for Spain's loss. Why? She was the goalkeeper's girlfriend and just too beautiful. Some critics said she was standing on the side lines too close to the goal posts when commenting, which must have distracted Iker Casillas during the game against Switzerland and that's why the Swiss goal went in. His mind was on his beautiful girlfriend rather than on the 'beautiful game' and the Swiss ball coming right at him.
Not only were those comments the dumbest thing anyone could ever say, they were also demeaning to both Sara Carbonero and to her boyfriend, Casillas, who just happens to be one of the best goalkeepers in Europe. But there are always stupid people who will say whatever they think, regardless it goes against every logical fact.
You have to wonder though the mental capacity of someone who would seriously think a guy like Casillas would think his girlfriend, who he sees just about every day, warrants more attention than one of the most important football games in his life. There's a time and a place for everything and, although Spanish men may be known as some of the world's most romantic, I would venture few of them would think with their penis if it came to a choice of 'beautiful girlfriend' or 'football'. Really.
Sara Carbonero too may be beautiful, but she's also known as one of Spain's best up and coming sports interviewers, so she too was surely more interested in the game and her job than the stud in the football net.
Fast forward almost a month and Spain is in a completely different position. The winners of the FIFA World Cup 2010 championship, Spain and its players don't have to apologize for anything, and neither does the Spanish captain or his gorgeous girlfriend.
During the whole World Cup event, both Iker Casillas and his girlfriend were nothing but professional. In fact, both commented very little on the 'Swiss goal story', continuing to remain professional and refusing to give it legs. Because of this, they gained even more respect from Spanish fans and from many others around the world.
So, after the World Cup 2010 final and Spain's monumental win, you cannot blame Iker Casillas for wanting to plant a big one on his girlfriend. In fact, you've got to respect him for it. Although, from the red face on Carbonero after the kiss, he may wish he hadn't once she gets him home.
To see a video of the kiss and Sara Carbonero's obvious embarrassment, see this Yahoo article.