Albir Garden Resort, Alfaz del Pi: An Inexpensive Yet Lovely Aparthotel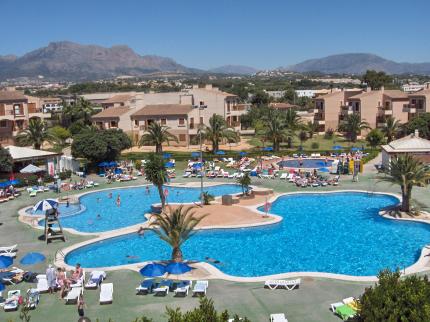 The Albir Garden Resort in Alfaz del Pi (Albir), Spain, is an aparthotel that has proven popular with short-stay and long-stay tourists.
That is because, while the Albir Garden Resort is located at the top end of Albir, and a 10-15 minute walk from Albir's beautiful beach, self-catering apartments and one-bedroom apartments are inexpensive here, particularly as most of them can sleep up to four people.
A one-bedroom apartment at the Albir Garden Resort, for instance, in March, 2014 is only 121 euros for two people for two nights, and that includes breakfast. If you want to bump that up to 'half-board', it still only increases to 130 euros for two people for two nights, quite an inexpensive deal indeed.
Rooms are clean and comfortable, although basic in the typical Spanish style. They all come with air conditioning, private bathroom, living room and bedroom, a fully-equipped kitchen, satellite TV and a terrace.
Location too is actually quite good, as you are very close to three large supermarkets and the main shopping street, which is packed with shops, cafes, bars and restaurants.
As for the Albir Garden Resort itself, it has two large swimming pools with a beautiful area for sitting out at, a children's pool so it's great for the kids, a restaurant and cafeteria serving snacks and full meals, a beauty salon, gymnasium, tennis court, ping pong tables, a lounge bar, a satellite TV lounge and free Wi-Fi in the public areas.
If you are there with your children, the Albir Garden Resort even has babysitting services, so you can enjoy a night out at a restaurant or cozy bar now and again.
With the number of families with children who stay at the Albir Garden Resort, particularly in the school holidays, it's not always a quiet place to stay, but if you are looking for a comfortable, friendly and well-located hotel or apartment in Albir for a short or a long stay, the Albir Garden Resort is hard to beat for price and standard of accommodation.
You can book a room from the Albir Garden Resort website.