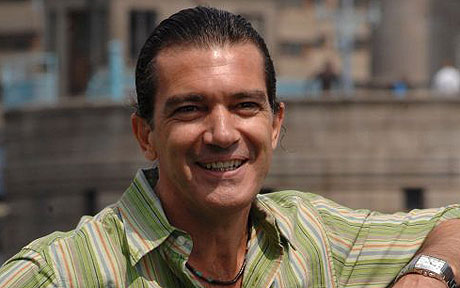 One of Spain's most famous actors, Antonio Banderas, is featured this weekend in an interview with The Guardian newspaper, one of the UK's most-respected papers famous for its in-depth, non-fluff style. As always, both Banderas and The Guardian put out a stellar product — Banderas by being interesting and honest and The Guardian by just being, well, The Guardian.
In the interview, 50-year-old Antonio Banderas starts off by saying, even though he's aging, that's okay by him. After all, he's sick of all that "Latin lover shit" anyway. Funnily, many of us are.
Banderas' most memorable roles haven't been in the typical Hollywood garbage anyway. His teaming up with Spain's best director, Pedro Almodóvar, to create five wonderful movies, produced the best work of Banderas' career. Nicely, he's just wrapped up another Almodóvar movie.
The latest Almodóvar/Banderas movie — The Skin I Live In — is set to be one of the best the duo has created.  It's also the first movie they've done together in over 20 years. Banderas plays crazy scientist Robert Ledgard, who plots revenge on the guy who assualted his daughter.
With this new movie, it looks like the Almodóvar-Banderas relationship has finally been fixed too. It dissolved 20 years ago when Banderas bailed on a new Almodóvar movie to go to America to star in the movie, The Mambo Kings – one of the worst he's ever filmed.  Not surprisingly, Almodóvar was furious, although to this day Banderas says he didn't really bail.
Read the interview and look out for the movie. The Skin I Live In is already being hailed as one of Almodóvar's best.