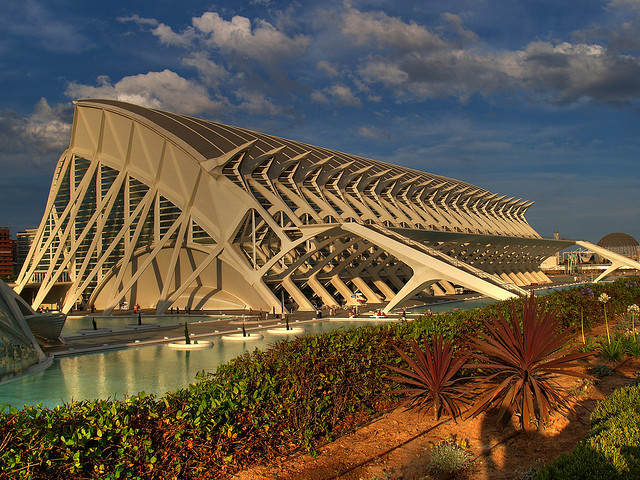 Valencia is Spain's third largest city and a popular tourist destination for tourists who go to see the massive City of Arts and Sciences museum complex, its UNESCO World Heritage Site, the Llotja de la Seda and, of course, eat at the city's thousands of incredible restaurants. For those who don't want to spend a lot of money on accommodation, you're in luck in Valencia. The city has some incredibly cheap hotel deals on three star accommodation that's superbly comfortable and loaded with amenities. If you're looking for a cheap hotel deal in Valencia, look no further than these three fine hotels .
NH Ciudad de Valencia Hotel – The Hotel Ciudad de Valencia is a lovely modern three-star hotel with some of the cheapest prices on upscale rooms in the city. Situated only a 15 minute walk from the City of Arts and Sciences, the hotel is only a two minute walk to two of Valencia's metro stations. So easy access to the rest of Valencia is all but guaranteed.
At the Hotel Ciudad de Valencia, guest rooms feature hardwood floors, flat screen TVs with satellite, an en suite bath, hairdryer, mini bar and a small work desk. If you want in-room Wi-Fi there's a charge of 10 euros a day but, if you don't mind sitting in one of the hotel's public areas, it's free. The hotel is also well-taken care of and has some of the friendliest staff in Valencia.
Room rate includes an excellent Continental buffet breakfast, and there's also a cafe for a light meal, a snack or just a cafe con leche. The neighborhood round about is also full of some excellent eateries.
Room rate for a single room, as of May 2011, start at $51.60. Cheap for a three star hotel of this standard and at this convenient a Valencia location.
You'll find the NH Ciudad de Valencia Hotel at Avenida del Puerto, 214, 46023 Valencia, Spain.
NH Las Artes II – Another modern three-star hotel in the NH chain of hotels, the NH Las Artes II is a few minutes walk from Las Arenas Beach, and just 15 minutes to the City of Arts and Sciences. it's also in a lovely quiet area of Valencia, so you'll get a great night's sleep here.
At the Las Artes II hotel, each guest room features an en suite bath with tub and shower, hair dryer, air conditioning, flat screen TV with cable, and a work area. Wi-Fi is available throughout the hotel.
The hotel room rate includes a Continental buffet breakfast, or if you prefer to go out to eat there are plenty of inexpensive restaurants and cafes close
by.
Room rates for a single room with en suite bath begin at $45 a night (32 euros).
The NH Las Artes II is located at Instituto Obrero de Valencia, 26, 46013 Valencia, Spain.
Expo Hotel Valencia – This large three-star Valencia hotel is located only five minutes by train to the city center, but is such a wonderful place to stay, you may not ever want to leave it. With its rooftop terrace, swimming pool and superb Mediterranean restaurant, the Expo Hotel Valencia is lovely. In fact, it's not known for its gorgeous views for nothing.
Each of the guest rooms feature an en suite bath with tub, shower and hairdryer, satellite TV, tiled and marbled floors which keep the room cool in summer and warm in winter, a mini bar and work area. Wi-Fi is available throughout the hotel and is free.
Don't miss eating at the La Mandarina restaurant if you enjoy good traditional Spanish cuisine, or take the train into the city and dine at one of the city's many open-air restaurants, visit the City of Arts and Sciences, or shop in Valencia's superb shopping malls and boutiques.
The hotel has 378 rooms, with the basic room rate for a Standard Double Room of $64 a night (46 Euros).
The Hotel Expo Valencia is at Avenida P­o XII, nº 4, 46009 Valencia, Spain.
More Information:
NH Ciudad de Valencia Hotel – Excellent room rates through Booking.com
Top Photo – Valencia City of Arts and Sciences
Middle Photo – There's some incredible street art in Valencia's old town – copyright heatheronhertravels, Creative Commons license