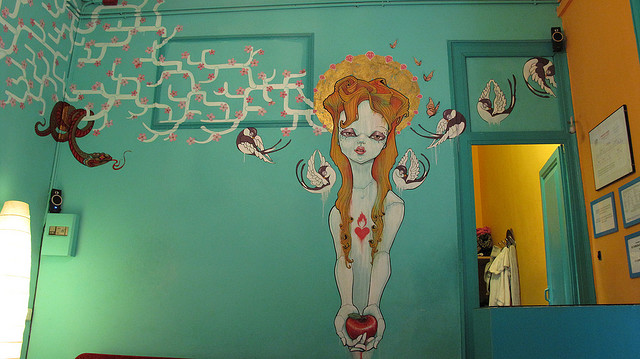 Spain is the world's fourth most visited tourist destination and Barcelona at the top of the list of must-see places in the country. Like many major cities in Europe though, staying in the center of Barcelona isn't cheap but, if you stay at one of these excellent Barcelona hostels, it can be. They offer some of the best cheap deals in the city.
InOut Hostel – One of the best, and cheapest, hostels in Barcelona InOut Hostel is in a superb location on 59 acres of private land on the outskirts of Barcelona. It also offers easy access to everything Barcelona has to offer, as it's close to one of the city's main train stations.
At InOut Hostel, you'll find every facility – from a cool common room with TV, a fully-stocked library, ping pong tables, a basketball court, an area to play football, a tennis court, free internet, a kitchen where you can cook your own meals and a full-service restaurant if you prefer someone else cook them for you.
Bunk beds are in 10-bed dorms, but every one gets a lockable locker, a fan, access to TV and a refrigerator and a bathroom and toilet shared with a couple of rooms. Everything in the hostel is incredibly clean and well-taken care of and the staff is lovely. What's even nicer about InOut is it was set up to give jobs to people with learning disabilities so, while you stay here, you're also helping give a job to someone who might not otherwise get one.
Every area of the property is wheelchair accessible, children are welcome and there's even free parking if you drove here.
You'll get a bunk bed at InOut Hostel for between 13 and 21 euros a night, depending on the season (approximately $18-29), and they're comfortable, clean and offer a great night's sleep as the area roundabout is incredibly quiet.
InOut Hostel is at Major Del Rectoret 2, Sarri -St. Gervasi, 08017 Barcelona.
Sant Jordi Alberg – Another of Barcelona's best and coolest hostels, the Sant Jordi Alberg is located in the city's Eixample District, just a few hundred yards from area restaurants and shopping and only a 10
minute walk to Barcelona's famous Las Ramblas. the hostel is also close to a metro train station, so has easy access to the rest of Barcelona.
At Sant Jordi Alberg, you'll get a comfortable bed in a dorm room that comes with free bed linens, air conditioning, Wi-Fi internet and free luggage storage.
The hostel also has a large communal kitchen where you can cook your own meals and where complimentary tea and coffee is available. Sant Jordi Alberg also has a big common room (great place to meet fellow travelers), where you can relax with a book, or watch satellite TV or one of the hostels many DVDs.
Guests can use the Sant Jordi's communal kitchen, where there is free coffee and tea available all day. There is also a common room with satellite TV and a DVD player.
A bed in a mixed dorm (men and women) is just $34 a night. Cheap for this area of Barcelona. Be warned though, the hostel is quite noisy, so if you're a family with kids and want an early night, this hostel may not be for you.
You'll find Sant Jordi Alberg at Roger De Lluria 40, 1º2º, Eixample, 08009 Barcelona.
Mambo Tango Hostel – One of the best located Barcelona hostels if you want to easily travel around the city, it's only a hundred yards from one of the main metro rail stations. It's also cheap, clean and staffed with lovely people, so if a comfortable, friendly place is what you're looking for, then this Barcelona hostel may be for you.
At Mambo Tango, there's a choice of a bed in a dorm or one in a private room. All have air conditioning and heating and individual lockers. Bed linens are free and you can rent towels for a minimal cost. There's also free Wi-Fi internet.
If you like to cook, the Mambo Tango has a large shared kitchen, or if you prefer to eat out in one of Barcelona's incredible restaurants or cafes, there's tons of them a 5-10 minute walk away. The hostel also has a TV lounge, an exchange library, and even arranges activities like visits to Barcelona museums, Spanish classes and walks around the city.
If you don't mind a bed in a dorm room, cost is $36 for a mixed dorm with eight other people. For a private room, expect to pay around $50 and up.
Mambo Tango Hostel is located at Poeta Cabanyes, 23 , Sants-Montju¯c, 08004 Barcelona.
Photo – Barcelona hostel, cool room – copyright ccchan19, Creative Commons license