Hostel Fornet: Comfortable and Cheap Accommodation in Altea, Spain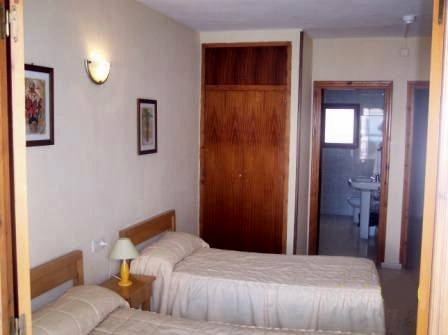 If you're looking for cheap accommodation in Altea, Spain, you can't go wrong with El Hostal Fornet (Hostel Fornet). Perfectly located in the heart of the old town area of Altea right at the highest point of town, the hostel offers cheap guest rooms that are spotlessly clean and comfortable and with lovely views out over the ocean or the town.
Rooms at the Hostel Fornet come with ensuite or shared bathrooms. You can choose to have air conditioning or just a fan and, of course, cable TV in every room is standard. There's also a pretty restaurant and bar serving delicious Mediterranean food, tapas, pizza and snacks at a reasonable price, and a lovely roof terrace if you enjoy a drink overlook the bay.
If you prefer to eat out, you'll find a myriad of cafes and restaurants within a 2-5 minute stroll or, if shopping is what you like to do, don't miss the independent boutiques and craft shops right outside the front door. The had-painted ceramics store right across the street, by the way, is lovely.
Room rates at the Hostel Fornet in Altea start at around 33 euros a night for a double room for two people. You can find out more at the Hostel Fornet's website. But, honestly, if cheap accommodation in Altea is what you want, you really can't beat this friendly hostel.