Hotel Atlántico a Stunningly Beautiful Parador in Cádiz, Spain (Video)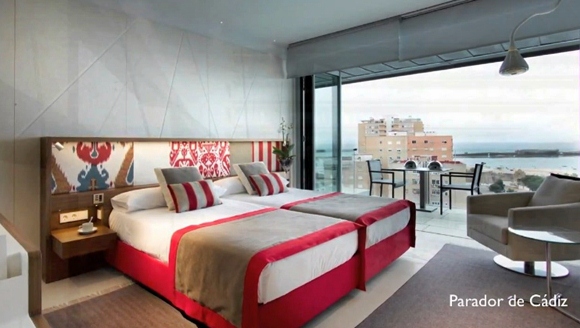 Are you considering staying in a parador hotel in Spain and looking for a nice parador in Cádiz? Look no further than the brand new Hotel Atlántico — it's one of the most beautiful parador hotels you'll find anywhere in Spain.
The Hotel Atlántico in Cádiz, designed as it was in a stunning contemporary style, is light, airy and so incredibly lovely to walk around.
From its modern architecture to its stunning swimming pool and its panoramic views out over the bay of Cádiz, you won't have stayed in a hotel much more spectacular than this.
If you enjoy staying in a parador that offers a world-class restaurant and superb food, you won't be sorry you stayed at the Hotel Atlántico in Cádiz either.
The hotel is already becoming known for its excellent dishes based on traditional local cuisine as well as its wonderful tapas bar.
And just to be sure you understand just how superb of a parador hotel the Hotel Atlántico in Cádiz really is, watch the official video below and then tell me you've stayed in a better hotel. I know I certainly can't.
Find out more about the Hotel Atlántico in Cádiz at the official Paradores website. Don't forget to check out their 'Offers and Promotions' page as well — you may be surprised that, for a parador of this high quality, it is not as expensive as you might think.