Terra Cotta Pots and Planters in Spain Make a Garden or Balcony Look Beautiful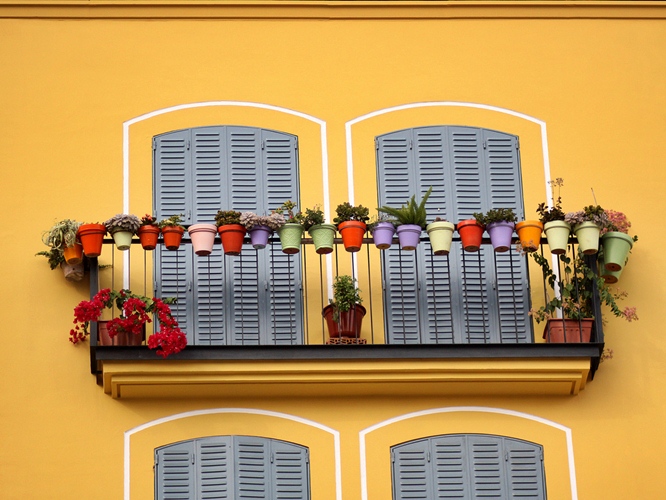 One of the things I've really enjoyed since I moved to Spain is gardening. I've never been much of a gardener, but because I now live in a country where everything seems to 'grow like Topsy' regardless of how bad of a gardener I am, I've learned to enjoy it.
One thing I love doing is buying new terra cotta pots in Spain to update the look of my plants. I only have a small balcony to display plants, but it really looks lovely with a lot of terra cotta pots on it, so I've become quite a pot and planter expert.
Rectangular Terra Cotta Planters – I started out with some typical brown terra cotta colored rectangular planters that I used to grow herbs in. The ones I bought were approximately 38 inches by 15 inches and had pre-drilled drainage holes, perfect for herb growing.
I planted mint and basil in them, as these are the herbs I cook with the most and, yes, they grew like Topsy. They were also available in sizes 15 inches by 15 inches and 22 inches by 15 inches.
If you want durability I would recommend paying a little extra money to get them sealed. It doesn't make them waterproof (terra cotta planters need to breath, so they're never waterproof), but it will make them last longer if you use them outdoors.
Terra Cotta Pots For Trees or Shrubs – The next type of terra cotta pot I bought was the large scalloped pot you can use for a small shrub or a tree. Available in sizes from 8 inches by 7 inches up to 26 inches by 24 inches, you can use the small ones for a table centerpiece and the large ones for a small tree or shrub.
If you use them gardening outdoors for trees they should definitely be sealed and make sure you keep an eye on the tree growth because, if allowed to grow too big for the pot, the tree roots will crack it.
Half Wall Terra Cotta Pot – The half wall terra cotta pots are fashionable with people who live in Spain. They are fabulous for dressing up a boring wall and you can hang them on pretty much any wall you want, both indoors and outdoors.
They come in several sizes but tend to be on the larger side at around 15 inches by 16 inches.
Outside, they're wonderful for gardening with plants like ivy and, inside, really lovely for fake plants. They usually have two holes on the back, so you can hammer or drill two nails or hooks into the wall and hang the terra cotta pot from them.
Animal Shaped Terra Cotta Pots – Many of the terra cotta planter and pot companies now make pots in the shape of animals. There is a circular section in which you can place the plant, and then a carved head and neck.
They're cute, especially if you do a lot of gardening, as you can put them outside in the garden with a flowering plant, herbs or even spring flowers in them.
One of my friends has one of these animal terra cotta pots in the shape of an elephant that she placed on the steps up to her front door. It looks very pretty.
Standard Terra Cotta Planters and Flower Pots – Last, but by no means least, don't forget your basic standard terra cotta planters and terra cotta flower pots. They are cheap and come in all sizes, yet they really jazz up a plant, herbs or a small tree.
You can use them for anything and, if you display them in groups, they make a garden or balcony look very elegant.
When I started gardening, I bought about 10 of them and put every plant I had in one of them. My boring garden went immediately from a nothing-look to one that looked like an elegant Spanish display. Again, get them sealed, or buy a sealer yourself at your local hardware store and they'll last outside much longer.
Terra cotta pots and planters are available everywhere in Spain and at cheap prices, so they really are a gardener's dream. Every gardening store has them, many markets sell them, or you can even buy them at places like Carrefour.
Don't forget, you can also use terra cotta pots and planters as a 'gift basket', arranging some cookies, seeds, kitchen items or even gardening tools in them.
You can also paint designs onto plain brown terra cotta planters and pots and then seal over the top of the paintwork to make sure the pots keep the pretty colors. Your options are truly endless.