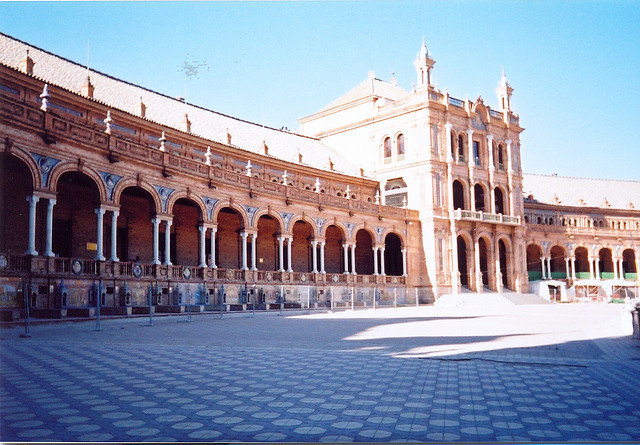 Seville (Sevilla), the capital city of the Spanish region of Andalucia, is a top destination for low budget travelers and backpackers. With UNESCO World Heritage sites, a 2000-year-old history, top museums, beautiful cathedrals and parks, it's no wonder so many travelers get to Seville every year. For low budget travelers, Seville also has some superb youth hostels, providing comfortable, clean and centrally located accommodation at a cheap price.
Sevilla Urbany Hostal – A relatively new addition to Seville's youth hostel scene, the Sevilla Urbany Hostal is already becoming known as one of the city's best, particularly for its superb centrally located position right in the middle of Seville's art and culture center.
Offering bunk beds in four-bed, six-bed and eight-bed dorms that are clean and well taken care of, the Sevilla Urbany Hostel also charges a very low price. The nightly rate includes air conditioning, use of a shared bathroom with shower, free Wi-Fi, free luggage storage, and a buffet breakfast.
The hostel also organizes several city tours, including tours to some of Seville's world-famous museums and even a tapas tour, if you love this Spanish bar snack. Staff too is friendly and helpful.
Rates at the Sevilla Urbany Hostal begin at $24 for a bed in a mixed dorm of eight people.
The Sevilla Urbany Hostal is at Do±a Maria Coronel, 12, Casco Antiguo, 41003 Seville.
Oasis Backpackers' Palace Seville – The odd thing about Oasis Backpackers' Palace Seville is beds in a dorm room are cheap. Small private rooms are not. The hostal though gets rave reviews on just about every hostelling website, so they're obviously doing something right.
Located just down the street from the Seville Bus Station, the hostel is in a perfect location from which to see all Seville has to offer. The Alcazar is just a 15 minute walk away. Dorm rooms come with free sheets and lockers, and air conditioning. Private rooms have a balcony and a small private bathroom with shower. Nightly rates also include a Continental buffet breakfast that's very good.
There's a small cafe and bar, a communal kitchen where you can cook meals or snacks, and even a terrace where barbecues are often the norm. There's also free Wi-Fi and baggage storage.
Beds in mixed dorms start at $28. Private rooms at $105 (like I said, not cheap).
The Oasis Backpackers' Palace Seville is located at Almirante Ulloa, 1, Casco Antiguo, 41001 Seville.
Hostal Trajano – The Hostal Trajano is a clean, comfortable cheap youth hostel, perfect for low budget travelers and backpackers. Located near La Campana Shopping Center, it's also in a wonderful location for shopping and some excellent eateries.
At the Hostel Trajano, there are no bunk beds in dorm rooms here. Instead, you get a private room with a small private bath with shower. Rooms are small but as rates start at only $42 – not bad for a bit of privacy.
The hostel is fully air conditioned (not always the norm with Spanish youth hostels), and features free Wi-Fi internet and a small rooftop patio, a lovely area to check out Seville's incredible views.
The Hostal Trajano is at Trajano, 3, Casco Antiguo, 41002 Sevilla.
More Information:
Oasis Backpackers' Palace Seville
Photo copyright – Sevile, Spain – Dewfs, Creative Commons License