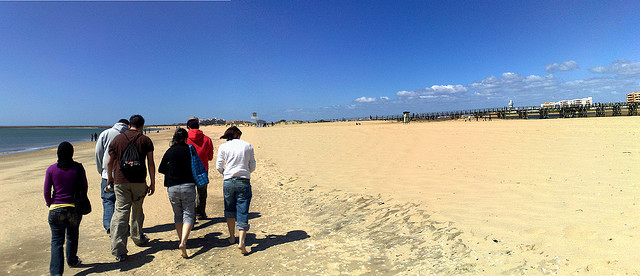 Huelva is a city and a province in the region of Andalucia in Spain.  Its the home of Spain's oldest football club, Recreativo de Huelva, and famous for being the location of several sites important to the Christopher Columbus legend.
Although not as often visited by tourists as many other Spanish cities, Huelva is still an interesting city to see, as well as in the middle of a fascinating traditional Spanish province.
To get current information on Huelva, contact one of the area's many excellent tourist offices.
Huelva's tourist offices, just like most others in Spain, are a wonderful resource for maps, suggestions for day trips or mini-breaks and are stocked full of free brochures and flyers.
Look for special discounts on area attractions and coupons for evening shows, trips etc.
Employees at Huelva area tourist offices are wonderful too. You'll find they speak several languages, are extremely knowledgeable about the area and no questions seems to be too difficult for them.
Here's a list of several Huelva area tourist offices where you can start off on your exploration.
Call first before going, as hours can vary even from those posted.
Oficina de Turismo Almonte
Avenida de las Adelfas, s/n (playa de Matalascanas)
21760 Almonte, Huelva
Tel: + 34 959 430 086
Oficina de Turismo Aracena
Plaza de San Pedro, s/n
21200 Aracena, Huelva
Tel: + 34 959 128 266
Oficina de Turismo Gibraleon
Plaza de Espana, nº 1
21500 Gibraleon, Huelva
Tel: + 34 959 300 351 / 959 300 211
Oficina de Turismo Ayamonte
Puente internacional sobre el Guadiana
Apto.Correos nº 32
21400 Ayamonte, Huelva
Tel: + 34 959 502 121
Oficina de Turismo La Rabida
Acceso al Complejo de La Rabida
21819 La Rabida, Huelva
Tel: + 34 959 351 258
Oficina de Turismo Punta Umbria
Avenida Ciudad de Huelva, s/n
21100 Punta Umbria, Huelva
Tel: + 34 959 314 619
Oficina de Turismo Huelva
Avenida de Alemania
21001 Huelva, Huelva
Tel: + 34 959 257 403
Oficina de Turismo Mazagon
Avenida de los Conquistadores, s/n
21130 Mazagon, Huelva
Tel: + 34 959 376 300 / 959 376 044
Oficina de Turismo Moguer
Calle Andalucia, nº 5
21800 Moguer, Huelva
Tel: + 34 959 372 377