When you first come to Spain, whether for a quick holiday or a move here, there are some things you really should not do.
After all, just like in any country, there are customs and social niceties that are definitely different in Spain than they probably are where you come from.
That's why we are going to point out 9 things you should not do in Spain that you have probably never even thought about before you got here.
That way, you won't find yourself making a faux pas and offending a Spaniard.
Never eat with one hand under the table
This is actually a rule that is common in many other European countries as well, and one thing you should not do in Spain.
Never eat your meal with one hand while your other hand is concealed under the table.
Over our many years in Spain, we have heard several reasons for this.
The first, parents don't want their children to conceal food and not eat it, so they make sure their hands can be seen at all time. On the other hand, some Spaniards have told us it comes from hundreds of years ago, when people were concerned a guest at their table could be concealing a knife.
No matter what the reason, if you are not eating with both hands, remember to have your other hand lightly resting on the table where your table neighbors can see it.
Don't think the Spanish are angry all the time
When we first moved to Spain, we thought the Spanish were angry all the time as, yes, many times they are quite loud.
Being loud and passionate as you talk about something in Spain, however, does not mean you are angry. It just means, you're into what you're talking about and excited to tell someone else about it.
In other words, when you see a Spaniard on the street talking loudly and waving their arms, just smile and walk on.
Because isn't it lovely to have so much energy for a simple chit chat between neighbors?
Read: What to expect if you move to Spain — it's a lot different than you might think
Don't put your bread on your plate in Spain
In the UK, where we are originally from, putting bread on the side of your plate as you eat is no big deal. In Spain though, you should never put bread on your plate, but should leave it sitting on the tablecloth next to where your knife or fork is located instead.
That's because, in one respect, bread is treated as another type of utensil in Spain. A utensil you use to push food around your plate, to pick food up or to mop up a sauce so you can eat it.
So, of course, bread goes right on the tablecloth next to your other utensils.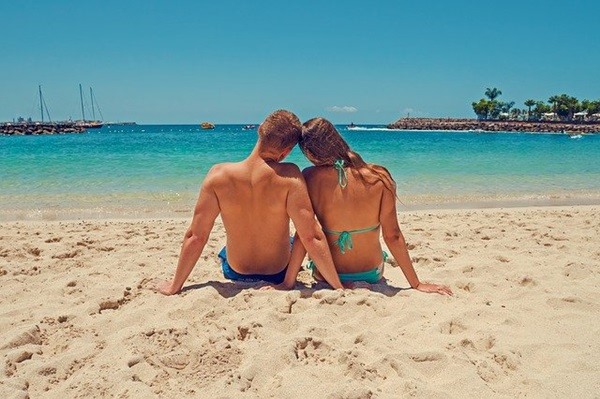 Don't wear your swimsuit off the beach
Every summer, we see tourists wandering around our town's streets wearing a bathing suit or a bikini top with a sarong skirt.
In Spain, that is not only considered extremely crass and very bad manners but, in some Spanish towns and cities, it's illegal and could lead  to you getting a few hundred euro fine.
A swimsuit is exactly what you should be wearing on the beach or at your hotel pool.
Once you leave either place though, cover up and put on a t shirt and shorts/skirt or a thin cotton dress instead.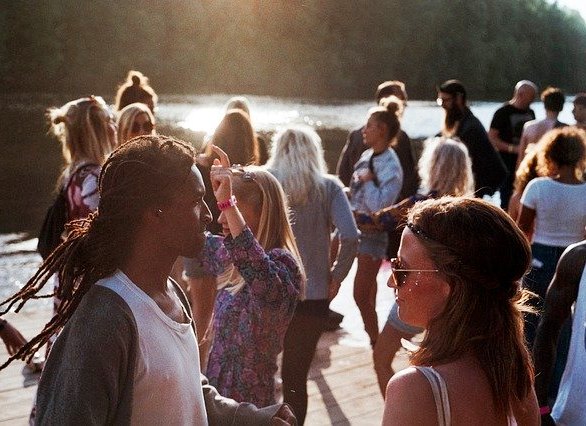 Don't ask people what job they do when you're at a party
The Spanish are a laid-back people that like to have fun. That means, when you go to a party, you are there to have fun and not to talk about work.
That's why Spaniards are often bemused, and sometimes annoyed, when a non-Spaniard meets them at a party for the first time and asks "What do you do?".
Sure, you are just trying to start a conversation but, in Spain, it is considered too serious of a topic for a social occasion.
That's why, if you want to start a conversation in Spain and don't know what to talk about, you can talk about the weather, the food at the party, ask what music someone likes, what TV shows they are currently watching — anything but about where they work and what they do.
Don't say "Adios"
The easiest way to show you're a tourist is to say "Adios" to a Spaniard as you leave. The Spanish just do not say "Adios" — hardly at all.
Instead, use the phrase "Hasta luego" (see you later) or the casual word "Ciao", as these words are usually how the Spanish will say goodbye to you.
Don't get drunk in the afternoon
While the Spanish might have a glass or two of wine or beer with lunch, you will rarely see a Spaniard drunk during the day.
In Spain, being drunk in the middle of the afternoon is thought to be low-class and as if you can't handle your drink.
In other words, if you are going to get drunk while you're in Spain, save it till the evening hours when, by 3am, you will fit right in with some of the Spanish who will be singing loudly and slurring their words as well.
Don't tip too much
As a whole, the Spanish do not tip very much. It is just not expected.
Much of this is because, unlike America where waiters are paid low salaries and expected to make them up in tips, Spanish waiters are already paid a livable wage.
That means, if you try to tip 20% like you would in America, of course your waiter will probably take it, but he will immediately know you are a tourist.
The best way to tip in Spain is to round it up to the nearest euro if you eat or drink something under 20 euros, and just leave a couple of euros on a bill any higher than that.
Don't expect to pay by credit card in Spain
Many small shops in Spain only accept cash and do not accept credit cards. At a Spanish market, it would be almost unheard of for any stall owner to take credit cards. Taxi drivers usually expect cash as well.
This is why, when you go shopping in Spain, or take a taxi, you should always make sure you have enough cash on you for the items you need. Be sure that cash is smaller bills as well, as your taxi driver is not going to be happy if you try to pay for a 6 euro fare with a 100 euro bill.