Hotel Best Triton a perfect hotel for a winter holiday in Benalmadena, Spain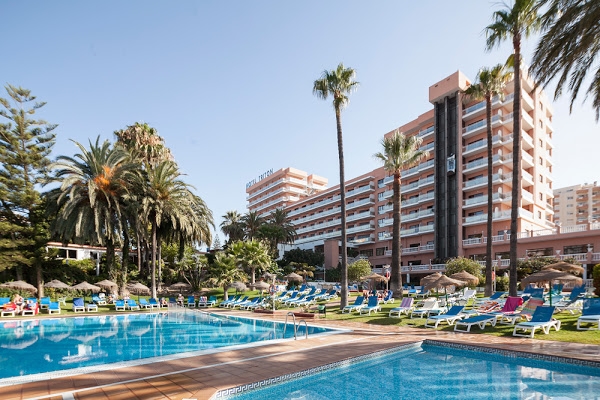 My parents and I recently returned from a month's stay at the Hotel Best Triton in Benalmadena, Spain.
Not only has this hotel now become our favorite Spanish hotel, we have already booked two more one-month holidays at the Best Triton in November, and again in March.
Why?
Because the hotel and its staff just do it right in so many ways, this gorgeous place in a lovely town really is hard to beat.
In fact, the Hotel Best Triton is the perfect hotel for a winter holiday in Benalmadena.
The location of the Hotel Best Triton
One of the first things my parents and I look into when booking a new hotels is the location. My parents just turned 80 years old and, while they are far more active than many 50-year-olds you will meet, they still do not want to be stuck in a hotel miles from anywhere.
That is why we knew the location of the Hotel Best Triton would be perfect. Beachfront, as it is, with the entire town of Benalmadena spread out behind it.
In fact, the hotel is located on Benalmadena's main street so shops, cafes, bars, a supermarket, Chinese bazaars, several banks, the police station and just about everything else you may need are literally outside the front door.
Behind the hotel is even better, as just a few steps down from the hotel's own garden and you are right on Benalmadena's main beachfront promenade where you can walk for miles, shop at the beachfront stores or sit at one of the many cafes overlooking the ocean.
Buses to neighboring Torremolinos and Fuengirola also stop outside the hotel, so it is very easy to get around the local area from here. The famous Benalmadena Marina with its many shops and restaurants is just a five-minute pleasant walk away.
Hotel Best Triton staff is lovely
Our next important thing about any hotel we stay at is the staff. The Hotel Best Triton's staff you could not fault at all.
Friendly, helpful, and willing to go out of their way to make sure we had everything we needed, they also have time for a smile or a joke, even as they rush around doing their jobs so efficiently.
During our first week at the hotel, my mother was extremely ill with the flu she had caught from a man on the plane. That meant she spent the best part of the first eight days we were at the hotel in her room.
Thus, my father and I carried food to her from the dining room at every meal.
During all that time, we were not stopped once to ask where we were taking the hotel's food, nor were we ever made to feel what we were doing was wrong (we weren't, her meals were paid for!) and, on several occasions, a member of staff in the dining room even helped us find specific food for her.
The bar staff is also pleasant and friendly, and very efficient, and so is the staff at the Hotel Best Triton's reception desk who solved every minor problem we had in no time at all.
As for the cleaning staff, they are lovely.
Most of the staff at the Hotel Best Triton also speaks very good English which, if you have spent any time in a Spanish hotel, you will know is actually quite unusual.
The rooms at the Hotel Best Triton in Benalmadena
My parents and I had rooms on the same floor, so we popped backwards and forwards into each others rooms often.
The hotel rooms are spacious, with two large single beds in each (you can get double beds if you want them), a dressing table, a large mirrored wardrobe and a big balcony with sliding glass doors that gives you a gorgeous view of the ocean in one direction and the town and the mountains in the other.
The bathrooms are large, with a huge vanity unit around the sink so there is plenty of room for toiletries and the sundry things you bring with you on an extended vacation.
Best things to see and do in Benalmadena, Spain
My room had a walk-in shower, while my parents' room had a bath and a shower unit. We had no complaints about either of them.
As for cleanliness, the cleaning staff do a lovely job.
Plus, one thing we liked was, unlike many other Spanish hotels we have stayed in, they had usually finished cleaning our rooms by lunchtime. That meant we could use the room anytime we wanted, rather than at other hotels in Spain we have stayed at where the room was never cleaned before 4-5pm.
The food at the Hotel Best Triton
From breakfast to lunch and dinner, you could not fault the food at the Hotel Best Triton. Particularly as it is all buffet-style, and with an enormous variety of food to choose from.
Breakfast offers you both typical cooked foods like bacon, sausages, scrambled eggs, fried eggs, omelettes, hash browns, fried mushrooms and many other cooked offerings, alongside cereal, many types of breads, various kinds of cheeses, sliced meats, pâté, many types of fresh fruit, yogurt, pastries — basically any food you could ever want is served.
Fun things to do with the kids in Benalmadena, Spain
The hot food is also hot — another not-so-usual-in-Spain thing about the Hotel Best Triton that we loved.
Coffee too is very good, with several machines dotted around the dining room so you can help yourself to coffee, lattes, espressos and more. There is also various kinds of tea for the non-coffee lovers.
Lunch and dinner are the same types of spreads with, again, an enormous choice of foods — many types of meat and fish, stews, rice dishes, three or four varieties of potato, seafood, sliced meats, cheeses, salads, fresh fruit, and many many desserts.
Food is also different every day so, even in a month's stay, we were never bored.
There is also an area where meat and fish, eggs, omelettes etc are cooked while you wait. Guaranteeing your food is incredibly fresh and very hot.
The hotel has an extensive selection of wines and beers, and prices are affordable. Our wine and other alcohol, both in the dining room and the bar was included, as we were staying at the Hotel Best Triton on an all-inclusive package.
Hotel bars, swimming pools and entertainment
The hotel has two bars — a large indoor bar just off the reception area, and a downstairs bar right next to the pool with a very large poolside patio. Both can seat a huge number of people, so we never had to worry about finding a table no matter what time of day or night we went.
The Hotel Best Triton also has an extensive area of sofas and comfortable chairs along most of its main floor.
That means if you do not want to sit in the bar, or listen to the entertainment, you can sit in one of these lovely side areas and read a book, play cards or just enjoy a chat with friends.
The downstairs bar also has an enormous glassed in room overlooking the ocean, which is perfect on days that are not so nice.
The Hotel Best Triton has two large swimming pools, which are open for much of the year, although they will be fenced off in very cold weather.
Both pools have sunbeds and seating available around them in huge numbers so, again, you will never have a problem trying to find somewhere to sit or to sunbathe.
There is also a spa with the usual spa packages, should you want to pamper yourself while you are away.
In other words, the Hotel Best Triton in Benalmadena is the perfect hotel for a winter holiday. Well…it's the perfect hotel for a summer holiday too, just a lot more crowded.
Don't miss the Wednesday flea market in Benalmadena — you'll get some great bargains
In fact, no matter when you want to stay at the Hotel Best Triton, be sure to book your room quickly, as they are so popular and so much loved people return again and again so rooms book up quickly.
It honestly is no wonder the hotel is known as 'the best hotel in Benalmadena', because it really really is.
Now watch the video below to get even more of an idea how gorgeous this hotel really is. Then book your holiday. Quickly. Before they sell out.