Senior Citizen Discounts in Spain For Those 65 or Older Are a Great Way to Save Money
Senior citizen discounts in Spain can make living or holidaying there even cheaper
I just got back from a month's vacation in Albir, Spain with my retired parents. As I'm nowhere near retirement age, until now, I've never been that aware of the fabulous senior citizen discounts in Spain those 65 years of age and over are entitled to, whether living here or just on vacation.
With discounts for transportation, museums, food and more, traveling in Spain if you're over 65 can be a great way to have a cheap holiday. Here are just some of the discounts you can expect.
Discounts on Trains – Earlier this week, my parents and I took an hour's train ride from Altea, Spain to Denia just down the coast. Before we went to the train station, the guide at the hotel had told my parents they must take a copy of their passports to prove they're over 65 years of age.
With just a passport copy, both my parents were able to get a return train ticket that was 40% cheaper than mine, a saving for each of them of more than 1 euro 55 cents ($2.20). Imagine if you're doing that kind of trip several times a month. Over a year, that's an enormous saving, just for being over 65 years old.
In fact, RENFRE, the Spanish train company issues a travel discount card to anyone over age 60 for a small annual charge. Valid for a year and called the Dorada Card (Tarjeta Dorada), it entitles anyone over age 60 to 25-40% discount (depending on the day) on any one-way or return train tickets. A massive yearly saving.
Senior Citizen Discounts at National Museums in Spain – Another wonderful benefit of traveling or living in Spain at the age of 65 or older is you can see all of Spain's national museums for free. Museums like the National Archaeological Museum, a wonderful museum, offers free admission every day, all year round, for anyone age 65 on up.
Don't forget to check local museums too as, even if they don't give free admission to seniors, most will have a deep discount with proof you're 65 years of age or older. Just take a copy of your passport or other official ID card.
With so many incredible museums in Spain, it's nice to know you can see just about all of them for free or a nominal fee.
Spanish Government Off-Peak Senior Rates – Due to Spain's dire economy, the government recently launched a senior citizen discount program in Spain targeting anyone over the age of 55. With this program, if you stay in many of Spain's four-star hotels (and they're gorgeous), if you're 55 or over you'll be entitled to a very nice discount. Just check with the hotel before you book a room to make sure they're offering the governmental discount.
In fact, this program has proven so popular, my father was informed he also was given an 'off-peak' discount when he rented a rental car last week. Apparently, other companies like rental car companies are jumping on the government's off-peak band wagon as it's proving to be so successful.
Those over the age of 55, coming into Spain for vacations or even traveling while living in Spain, often have more disposable income than younger adults, and the Spanish government knows this. Their off-peak program runs from mid-October to early April, so don't miss it.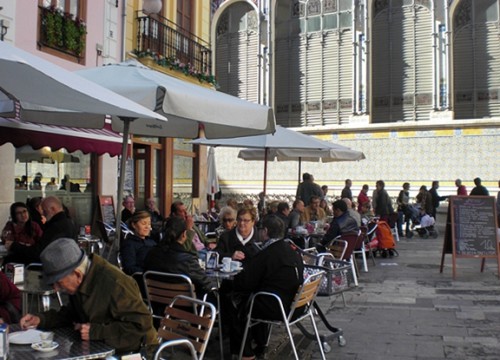 Restaurant Discounts – We're staying in Albir, Spain and have also eaten meals in Altea, Benidorm, Calpe and Denia. In some of these towns and cities, we've noticed restaurants and cafes offering 10% discounts to anyone over 65 years of age, as Spain's economy is so bad it helps bring in some custom.
If you want to eat lunch or dinner out, look for either cafes and restaurants offering senior discounts or those serving a 'Menu del Dia', which is a set lunch or dinner (usually 9 euros ($12.60) or less for three or four courses and includes a glass of wine or beer.
In Albir, the restaurants are so full of the over 65 crowd at lunch and dinner, it's sometimes difficult to get a seat, but more power to 'em.
Senior Citizen Discounts on Buses in Spain – Another wonderful way to save money on your Spanish vacation or living in Spain is to get a senior citizen discount card for the bus service. Each region in Spain is different, with each bus service offering different cards and different discounts.
But, with discounts from 20-60% depending on the Spanish region, you'll save a huge amount of money if you're going to be spending much of your time on Spanish buses (which are excellent by the way).
Ask at the local bus station in the town you're staying or living in. Just take a copy of your passport showing proof of age and either purchase a monthly or yearly senior citizen pass, then get on a bus!
Spain is not only one of the world's best countries to travel in and live in, if you're 65 or over you'll find you'll get cheap deals and excellent discounts and, of course, in a society that reveres the elderly, you'll be well taken care of too.